Dog Furiendly is supported by our tail-wagging readers. When you buy through affiliate links we may earn an affiliate commission. Click here to find out more.
Having a personalised dog bowl for your furry friend will give them a taste of the high life! We absolutely love that there are so many fabulous designs to choose from and better still that many are sold by small business owners.
We've compiled a list of ten of our favourite personalised dog bowls to spoil your pooch and give your home a little touch of luxury.
---
Keep things simple with this stunning white ceramic dog bowl from Scribbles and Sparkle.
This classic design has nine different fonts to choose from and 12 different font colours. We love the 'Signature' font as shown in the photo above!
This stunning two-tone ceramic bowl will bring a touch of luxury to your home and your dog's meals!
HKAceramics make their beautiful designs to order and they can be bought in a variety of colours. As well as having your pooches name printed, you can also opt for additional personalisation such as a paw print or dog bone. We love it!
These gorgeous raised dog bowls are perfect for any mucky pups! Available in four different sizes to suit both little and large dogs, this sturdy frame will (hopefully) prevent any more food and water spillages!
The bowls are removeable for washing up and there are two font colours to choose from.
We adore this script print personalised dog bowl by the Print Maniacs Shop! Your pooches name will be printed with or without the paw print and is available in eight different colours.
This gorgeous bowl is made from ceramic and can be purchased in two different sizes.
We love this unique polka dot design by We Love Pets! This might just be the most personalised one on the internet. Check out their listing to see all of the fonts, colours and frame options available. You'll be spoiled for choice!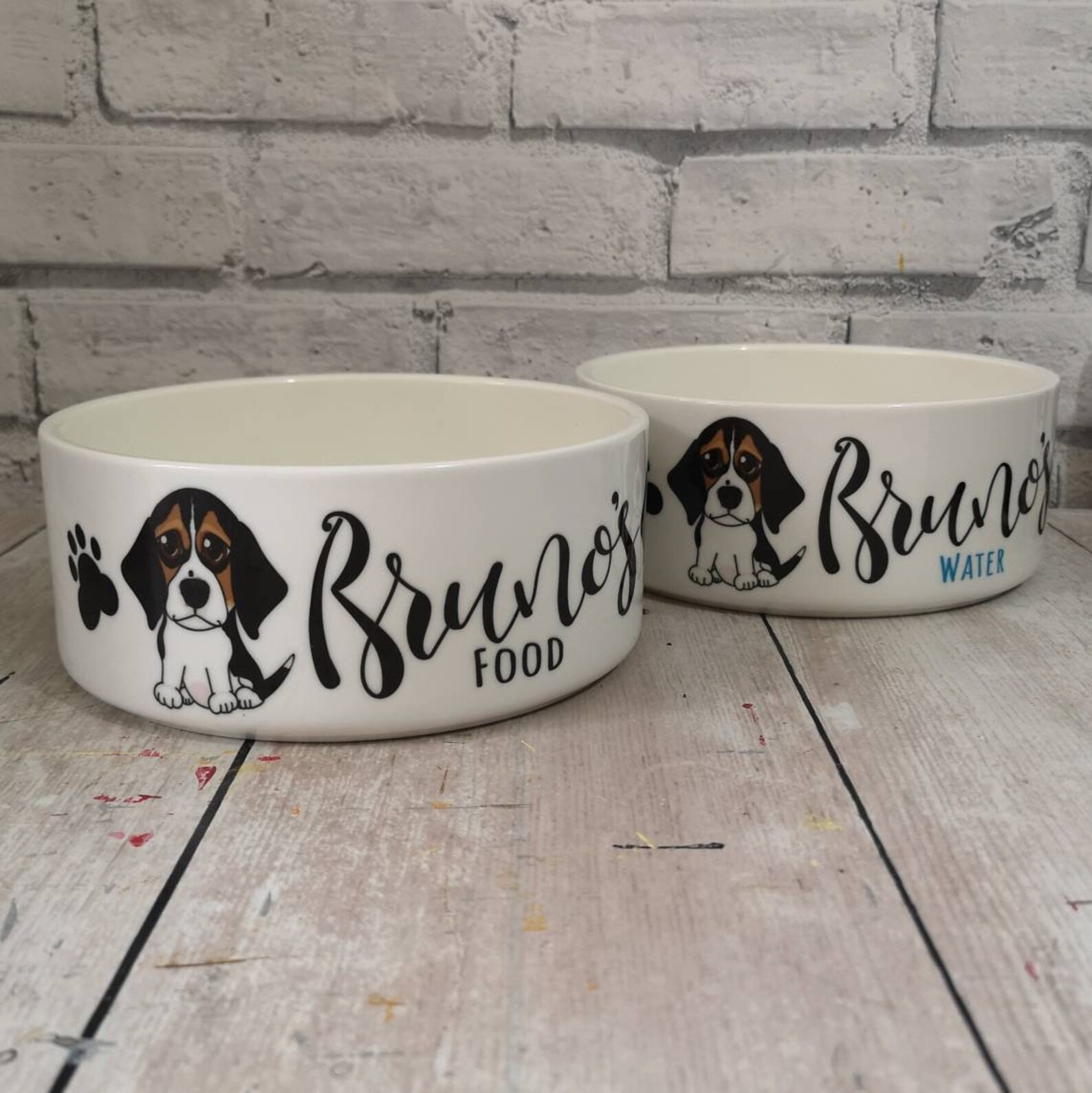 This cute white ceramic bowl is printed with a personalised caricature of your pup and your pooches name. The dog cartoon itself is created digitally, and printed onto the bow. Fab addition to any home.
Ceramic bowls are ideal for keeping your pooches food and water weighed down to prevent any spillages!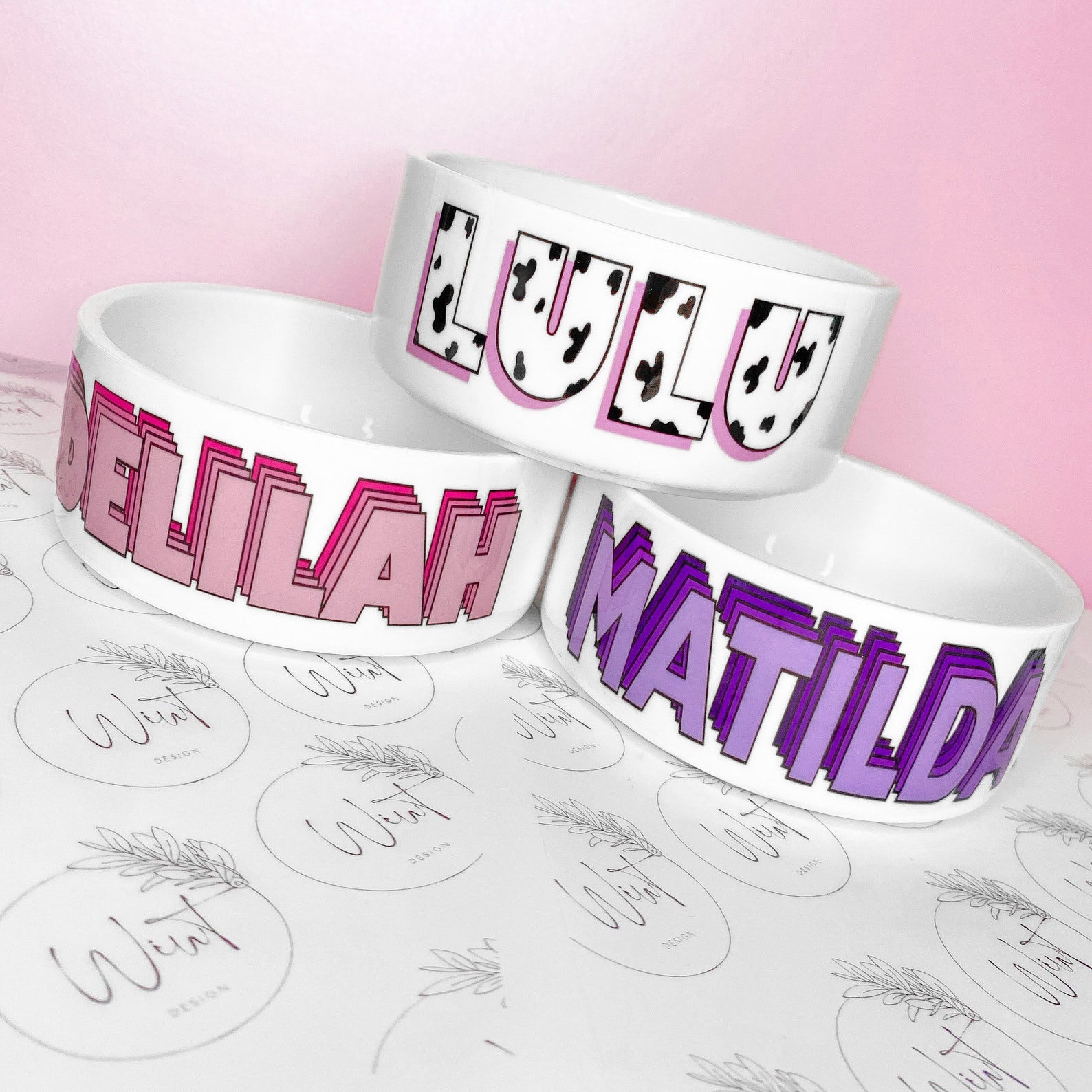 This beautiful dog bowl will make any home pop. All names are hand drawn and sublimated straight onto the ceramic bowl for a quality glossy finish! This personalised dog bowl is the perfect purchase for those looking for something simple yet beautiful!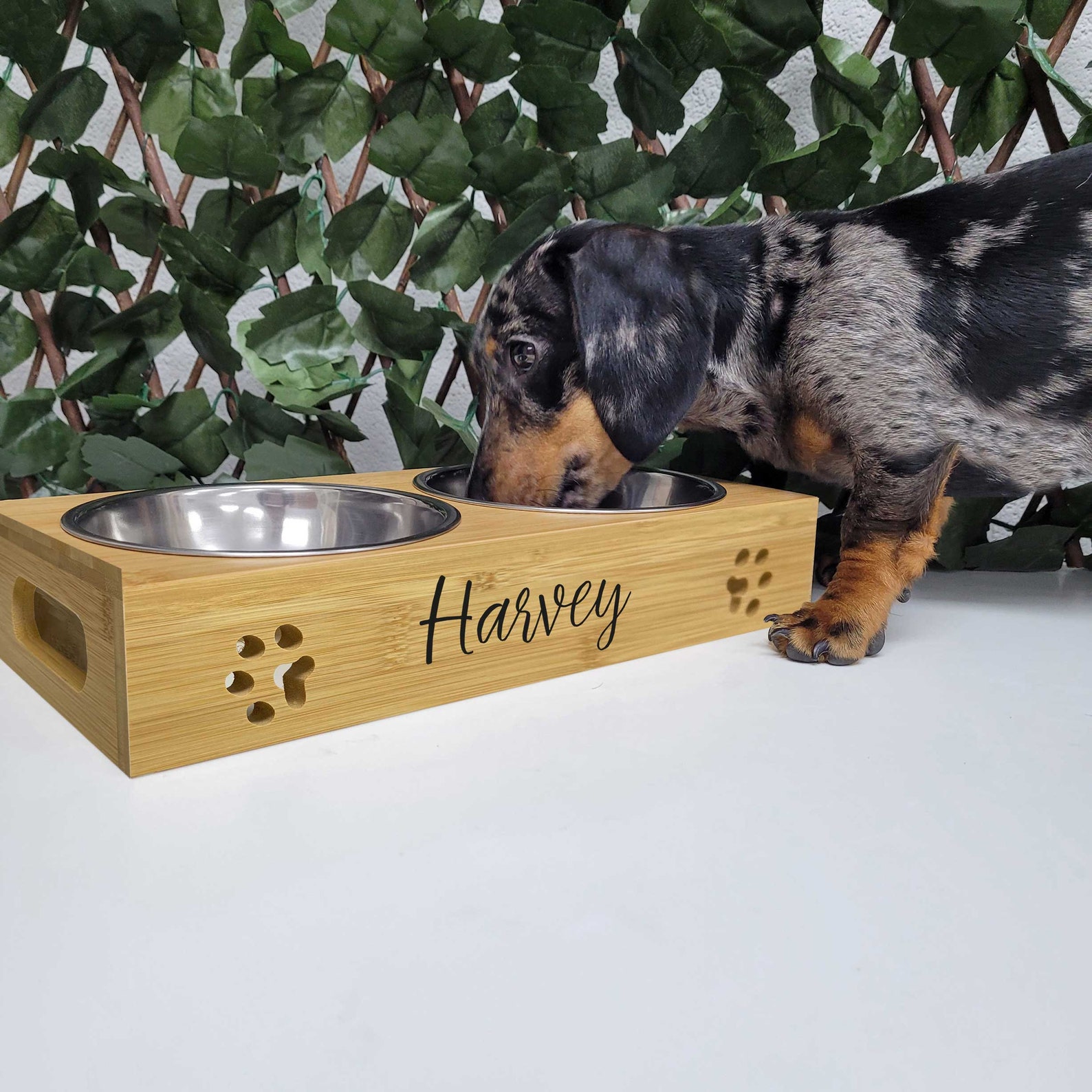 This beautiful bamboo dog bowl set is perfect for those looking for something more eco-friendly. Laser engraved with your perfect pet's name, we think that this wooden design would suit any home.
This set also has removeable stainless steel bowls so that you can wash, dry and return them for your pup's next meal!
If you checked out our baking essentials guide, then you might recognise this gorgeous enamel bowl by Sophia Victoria Joy!
We love that you and your pooch can have matching bowls, one for you to whip up some yummy treats in and one to serve the goodies to your pup!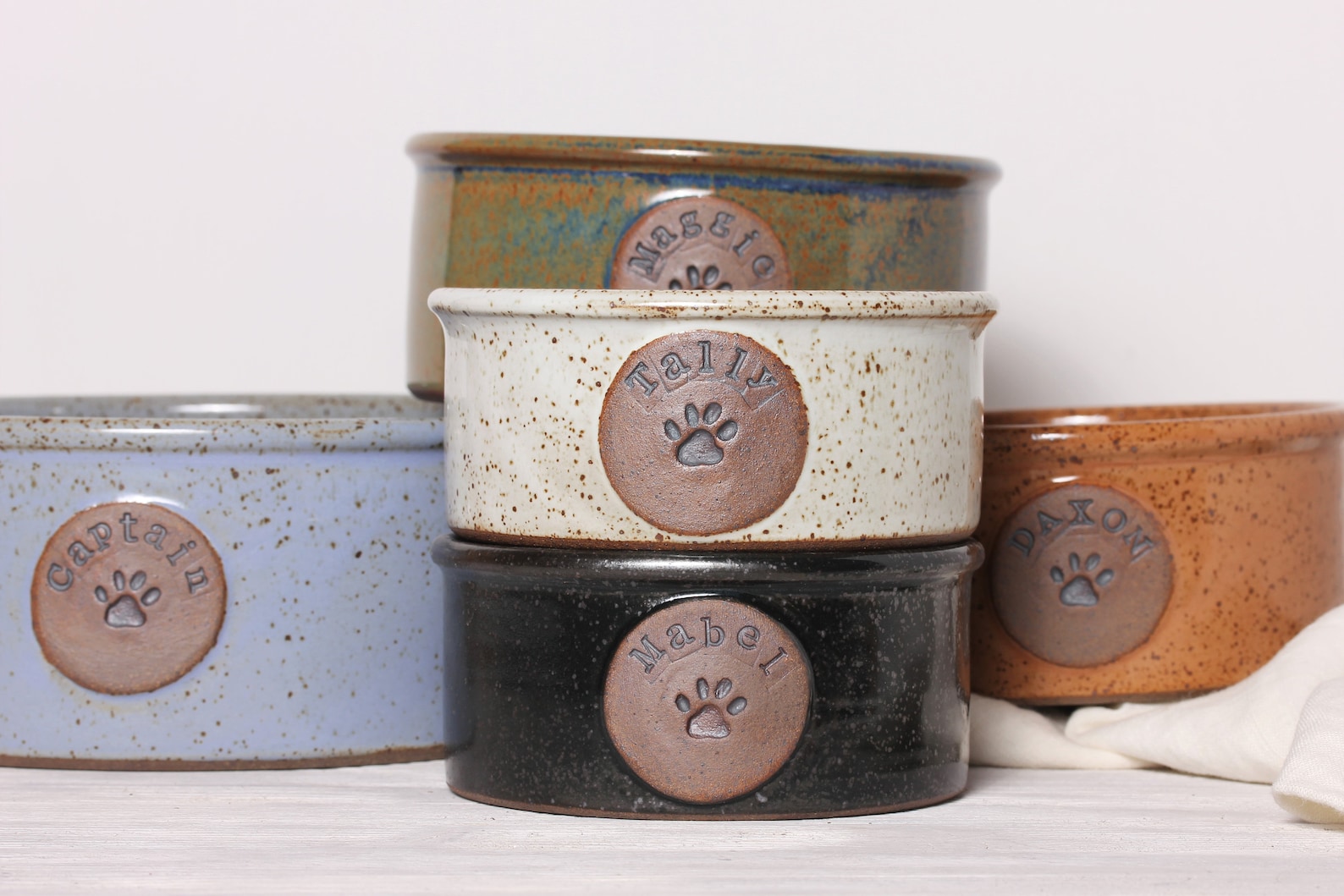 This personalised dog bowl is certainly going to get your pup's paw of approval! Not only does it come with their name, but each bowl is handmade with plenty of love. After all, beautiful handmade pottery shouldn't be limited to humans.
Does Your Dog Have a Personalised Bowl?
We hope that you found a new favourite personalised bowl for your spoiled poochie! Tell us, which one is on your wish list?
Do you have another seller on Etsy or Not on the High Street that sells beautiful personalised dog bowls? Let us know in the comments below!