Dog Furiendly is supported by our tail-wagging readers. When you buy through affiliate links we may earn an affiliate commission. Click here to find out more.
Christmas dog bandanas are a fun fashionable way to style your pooch and give them a sprinkle of festive fun. You only have to browse Instagram to see dogs of all shapes and sizes 'sleighing' these fashionable items.
While they're great for adding some extra flair to your furry companion, dog bandanas can also be more practical and useful than you think.
Calming Them Down: During this Christmas season, things can get a little overwhelming for your pooch. Wrapping the presents, making room for a Christmas tree, all the excitement on the big day. Pop some calming essence onto a comfortable Christmas dog bandana to help your pooch relax during your busiest moments.
Looking the Part: When dining out, grabbing a coffee or hitting your local park – you'll want your pooch to look the part over Christmas. Put their best paw forward with a bandana. Bandanas are great for any impromptu photoshoots and that's not forgetting all the fuss and compliments they'll receive.
Supporting Small Businesses: As if that wasn't enough, all the bandanas in this guide are created by small business owners on Etsy. So you'll be and supporting them through these unprecedented times.
Things to Consider
The most important thing to consider before getting a bandana is whether or not your dog is happy and comfortable wearing a Christmas dog bandanas. Most dogs are relaxed but if your dog shows any signs of stress, then don't force them to wear it.
When measuring the dog's neck, bandanas should be loose enough for you to comfortably slip at least two fingers between their neck and the bandana. This is to make sure the bandana is not restricting their breathing or movement.
So now that we've preached the goodness of this great accessory, and important things to consider let's dive into our 'edit' of Christmas dog bandanas.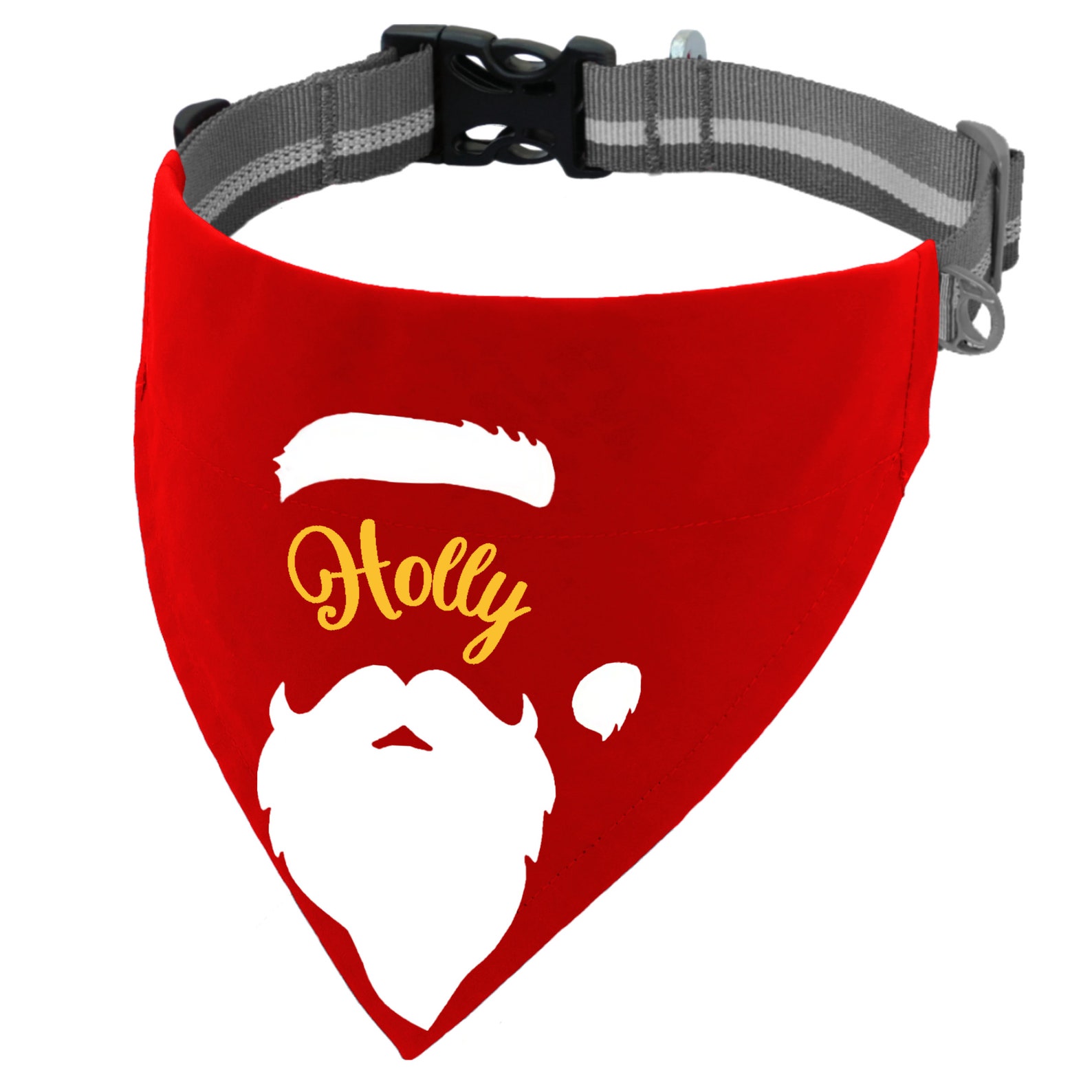 We all know the big man rocks, especially if he has a bag of dog biscuits in his pocket. This Christmas dog bandana is the pawfect design from Vanilla Company. This double sided bandana is personalised on one side and handmade to order just for your pup.
All bandanas are made to slip on the collar, for a nice secure fit.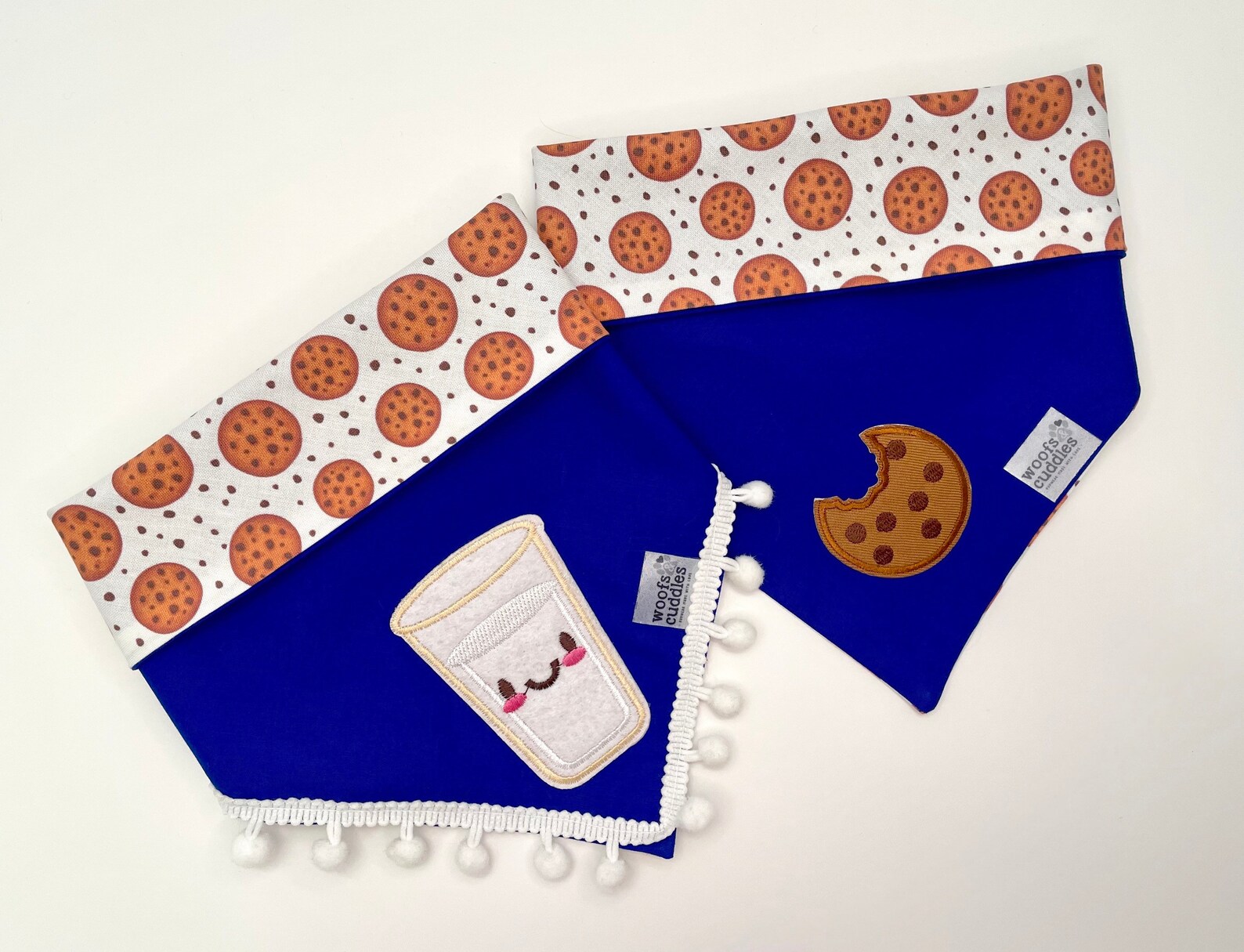 Santa Paws LOVES his milk and cookies, but do you know what he loves even more? Seeing your pooch in their Christmas best. We love these bandanas from Woofs and Cuddles. This set is perfect for those with two dogs – one wearing milk, the other wearing cookies. Perfect for adding a pop of fun to the festivities.
This bandana is lined with a cookie back with the option to have a luxury bobble trim and milk or cookies patch. It's completely reversible should you fancy a quick outfit change. You can also have the cookies design on the back!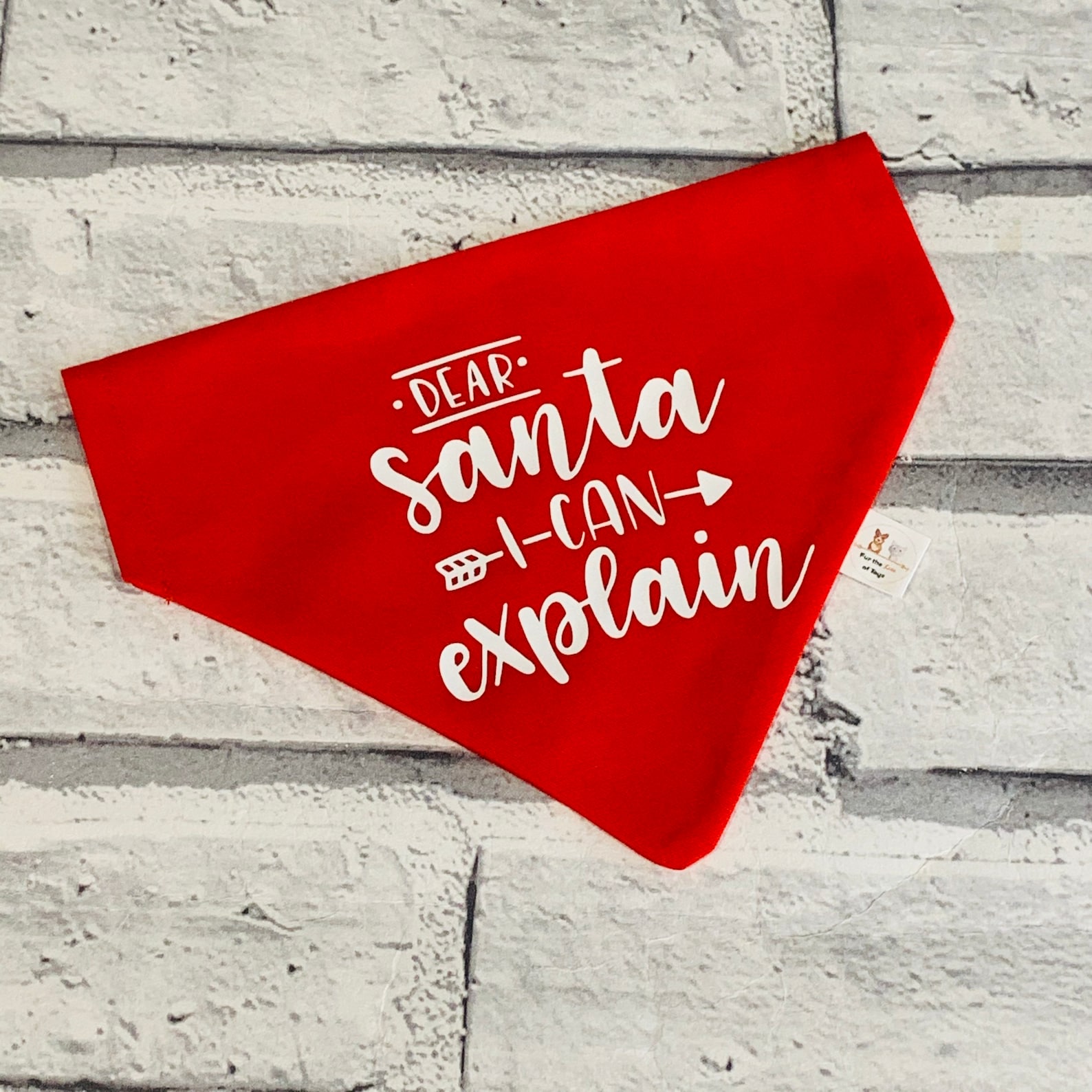 Christmas tree on the floor, tinsel torn to pieces, Christmas baubles in the dog's bed… the dog has to blame someone right?
This Christmas dog bandana is a fun addition to any mischievous pups bandana collection. The bandana is a slip on one for a secure fit.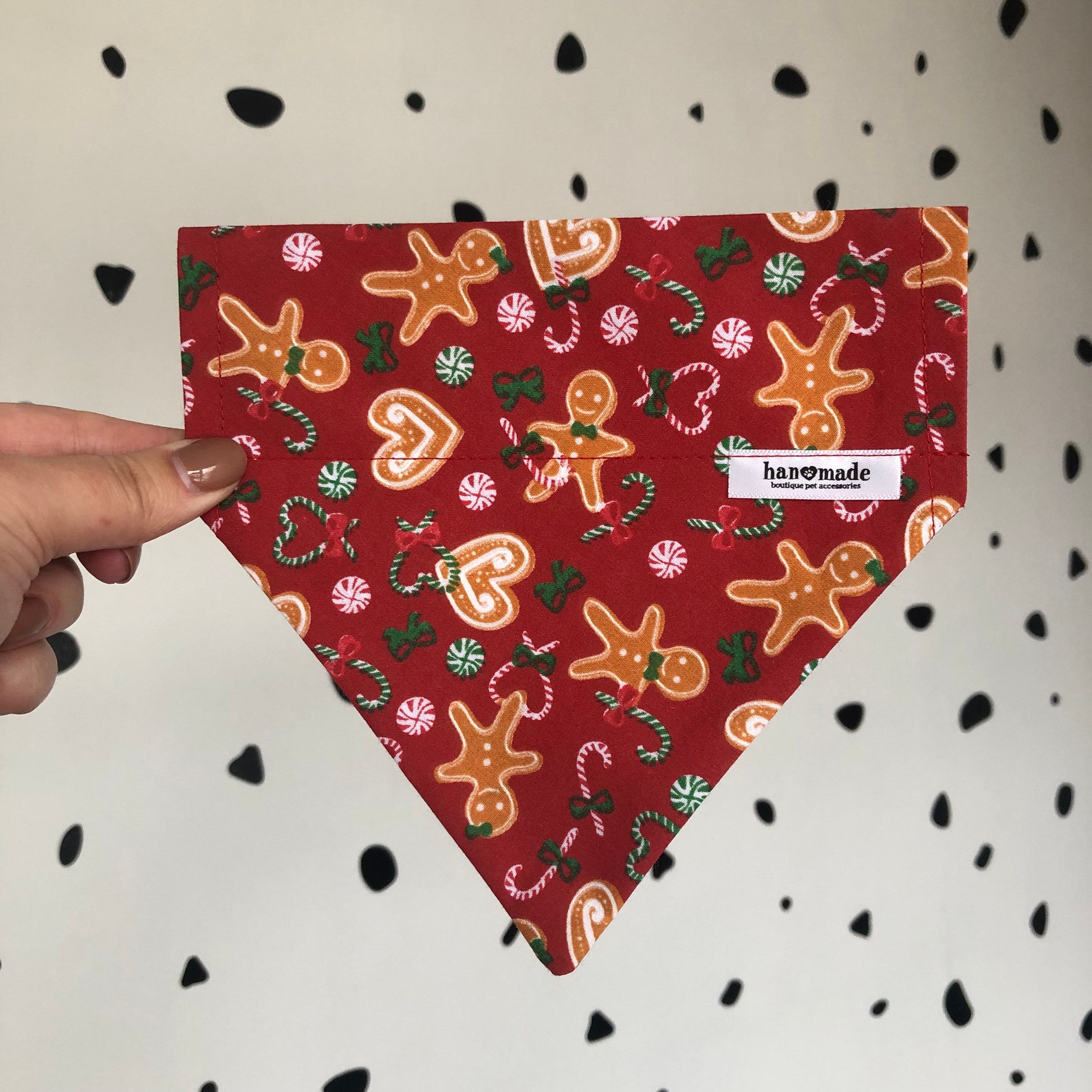 There's nothing better than a cute Christmas bandana. Oh wait, yes there is! A gingerbread Christmas bandana! We adore this adorable design.
All bandanas are made to slip your dog's collar, perfect for that secure fit!
There's no place like Gnome when it comes to Christmas, which is why we adore this bandana. This design will certainly make your pooch pop with its bright blue and gnome design.
The bandana is easy to fit and adjustable. Simply tie the bandana around your dog's neck to fit.
Did your pooch make the Naughty or Nice list? If they're anything like our mischievous pups, it probably changes on a day-to-day basis.
Get this bandana and count up the days they wear the red side VS the green side. That way, you can let Santa Paws know exactly if they're looking for treats or coal.
Each bandana slips onto the colour, for a secure fit.
This bandana is full of festive fun, making it the perfect addition to any collection. Pretty tartan mashed up with golden stars and a personalised name. Designed to slip on your dog's collar.
Matching headband is also available. Twinning is winning!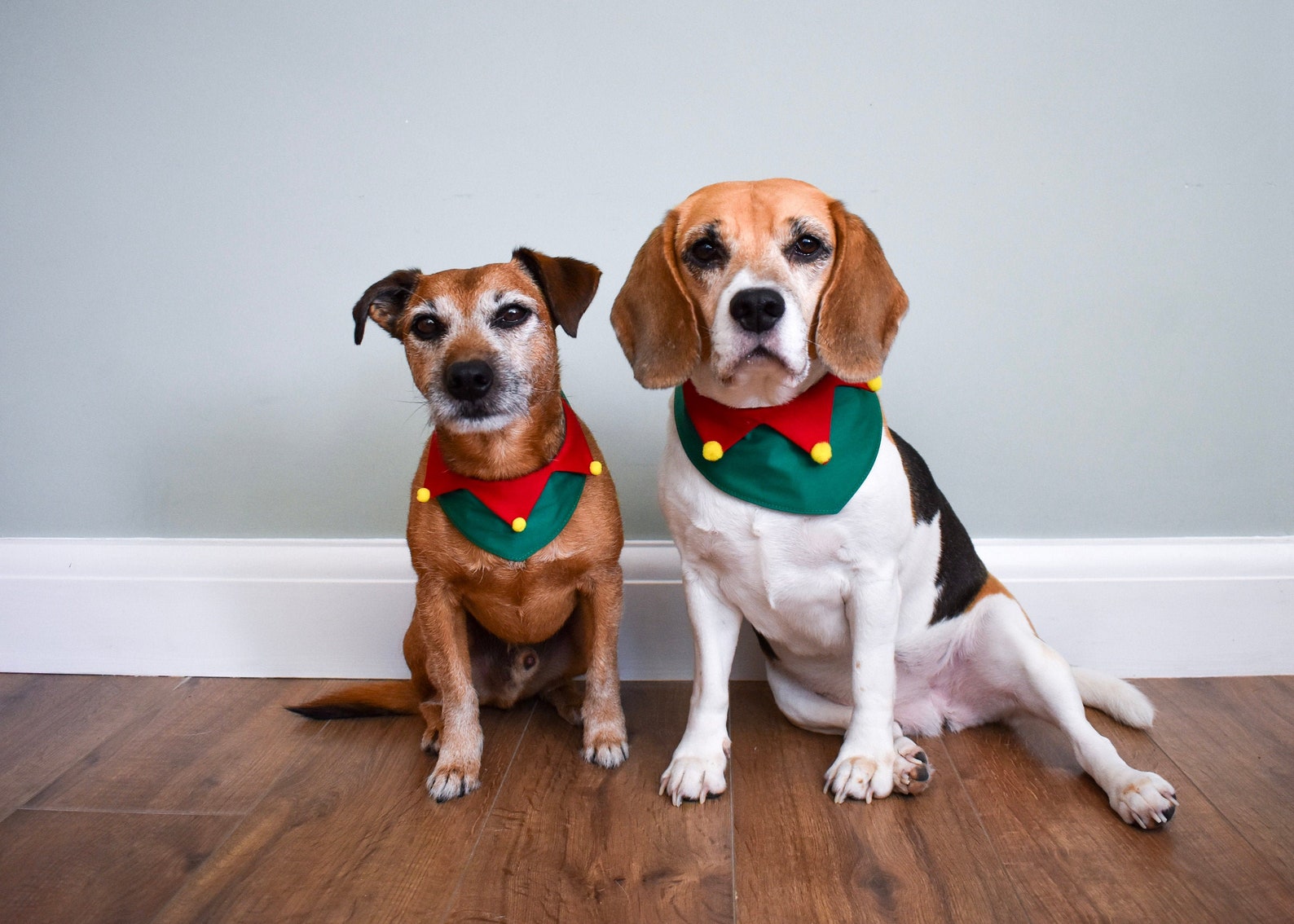 SANTA! I KNOW HIM! We like to think that all dogs are undercover elves that look after us all-year-long on Santa's behalf. So when we saw these adorable Elf bandanas, we knew we had to include them in our bandana guide.
This bandana connects with two KAM snaps, so you can take it on and off with ease.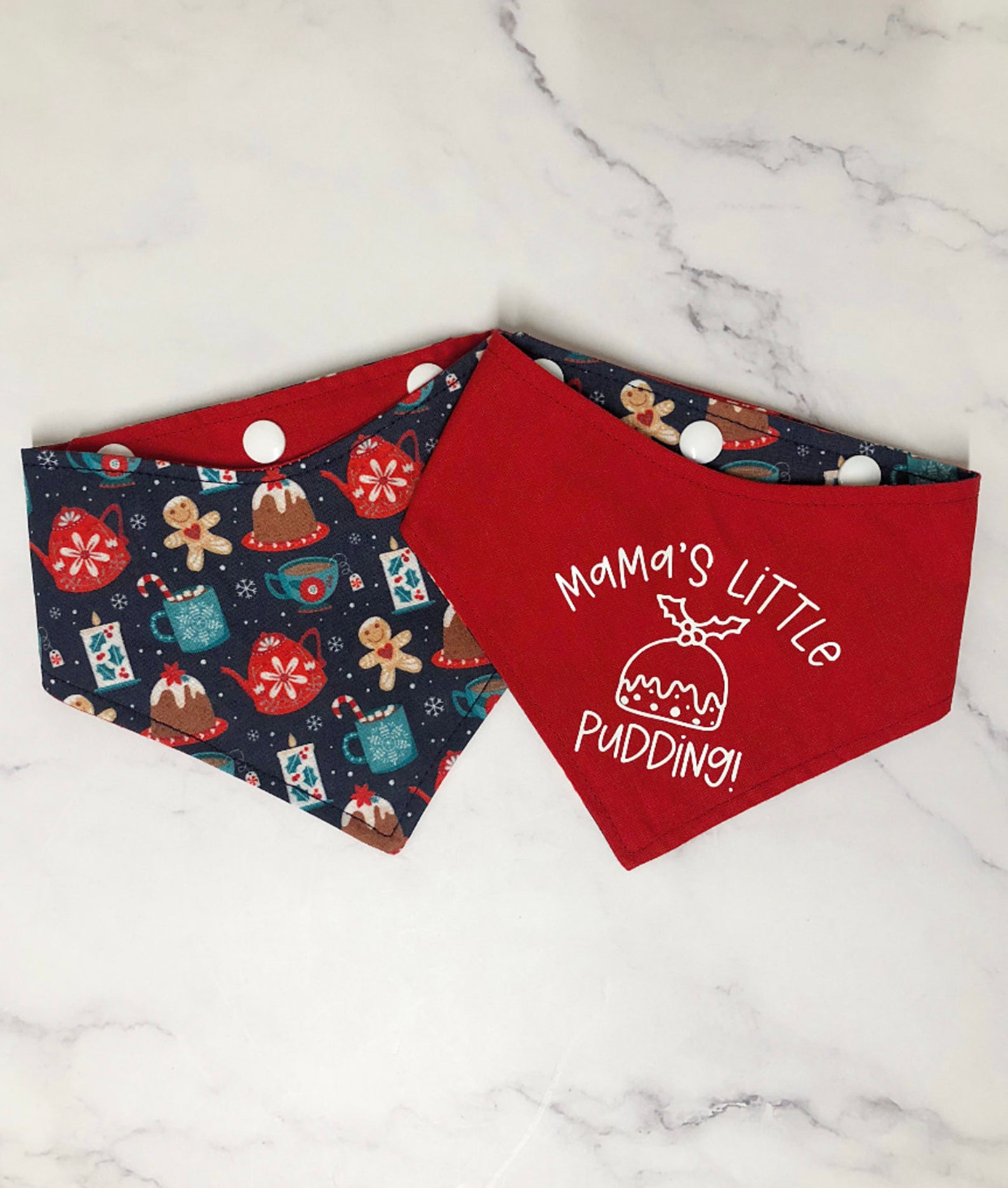 Now bring us a figgy pudding! This bandana is super cute, with all the Christmas trimmings and a reversible finish. Perfect design for your own little puddings.
These bandanas have a button poppers, so you can easily pop them on or off.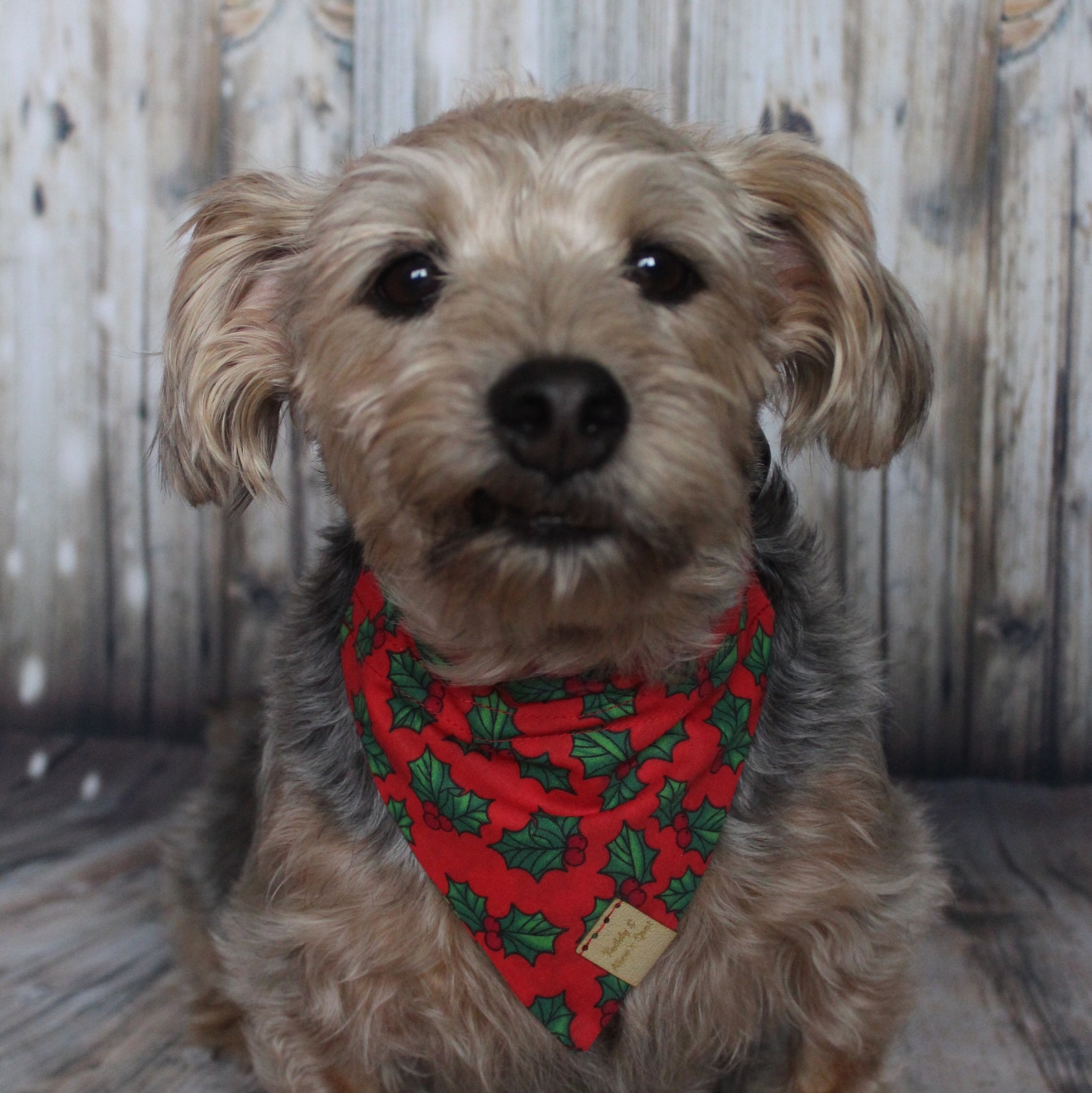 We love this traditional holly design. Each bandana has a secure collar-slip finish. There's even matching scrunchies so you can twin together on Christmas Day.
Share Your Christmas Bandanas
Whether you're into bandanas, bows or the newest trend neckerchiefs. Share your photos and comments with us below. Do you have a favourite Etsy bandana seller? Have you bought a Christmas bandana? Let us know in the comments below.
Click here for our Floral collection of bandanas.