Dog Furiendly is supported by our tail-wagging readers. When you buy through affiliate links we may earn an affiliate commission. Click here to find out more.
Do you love baking homemade treats for your pooch? Perhaps you consider yourself the next Great Doggy Bake Off champion?
We've pulled together some of our favourite baking essentials for doggy baking. Okay, maybe some are more on the fun side than essential, but they're all SO cute!
All of these beautiful items are handcrafted in the UK, so you will be supporting small business owners on Etsy and Not On The Highstreet.
This gorgeous personalised mixing bowl by Sophia Victoria Joy would make a fab addition to any bakers kitchen! Made from steel and coated in white enamel with a blue painted rim, this cute bowl comes in three different sizes.
You can also select from either a whisk or bowl icon which is printed above your chosen name. As much as we think that this is a great 'to me, from me' gift, we also think that this would be a unique present for any friends or family that love to bake!
It wouldn't be the Great Doggy Bake Off without a weekly Star Baker! Or Star Barker in our case…
We absolutely LOVE this personalised wooden spoon by The Laster Engraving Co. Even if your creations don't turn out the way you had hoped, you'll always feel like a winner!
Cookie cutters are one baking essential that you can't be without, and these gorgeous 3D printed paw print designs are just the thing to turn your dog treats into Insta-worthy creations!
Made from PLA food safe plastic, these cookie cutters range from 65-70mm in size which is the pawfect size for some tasty treats!
This ADORABLE embossed rolling pin by Boon Homeware features sausage dogs in Christmas jumpers which will print into your dough once rolled. Do we need to say any more?!
We all know that baking can get a bit messy, so why not look pawesome while you do it! An apron is one baking essential that you can't be without and we just adore this gorgeous personalised one by Syd and Co.
This pawfect little cookie cutter has a unique twist? Why? Because it comes with your dog's name on it. Now everybody will know who these tasty treats belong to.
Personalised Dog Breed Treat Tin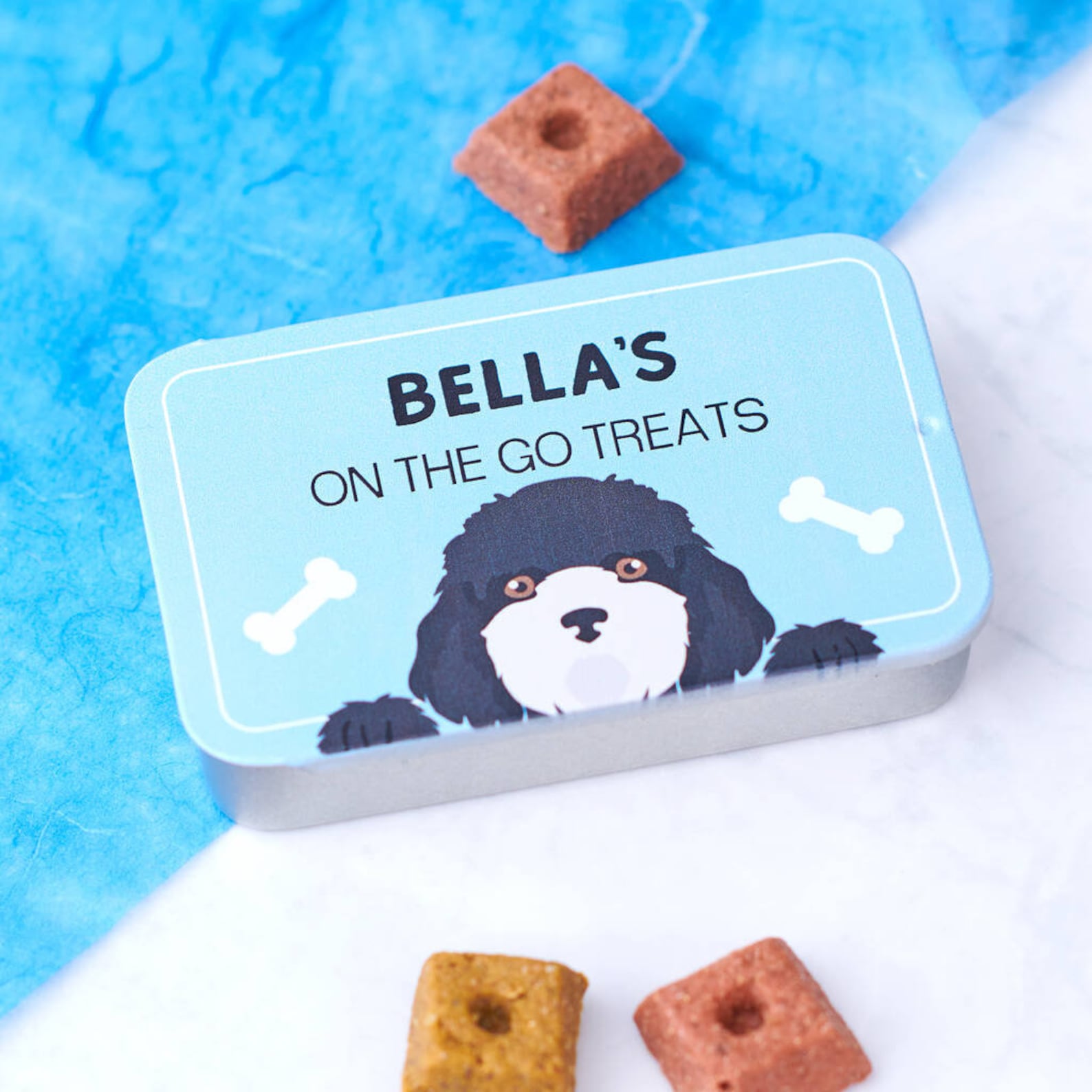 If you're making lots of treats for your pooch, you're going to need somewhere to store them! This personalised doggy treat tin is one keepsake that will last through the years. There's over 151 breeds to choose from!
Just make sure that you keep your treat tin on a high shelf, otherwise you might find your baking creations gobbled up before you can snap that prize winning picture!
A statement oven glove is something that every baker needs for their kitchen!
These beautiful black labrador print oven gloves by LauraWrightArtist are timeless. We think that this vintage country cottage design would make any kitchen feel quintessentially British!
After the treats are baked, there's always the dreaded tidying up afterwards. What better way to dry your dishes and have a bit of fun than with this beautifully printed tea towel by BBIllustration!
Made from 100% cotton and measuring 69 x 46cm, this gorgeous tea towel will certainly make a statement in your kitchen.
Anyone else also pondering what the X and Z dogs are called?! Guess we'll have to buy it to find out…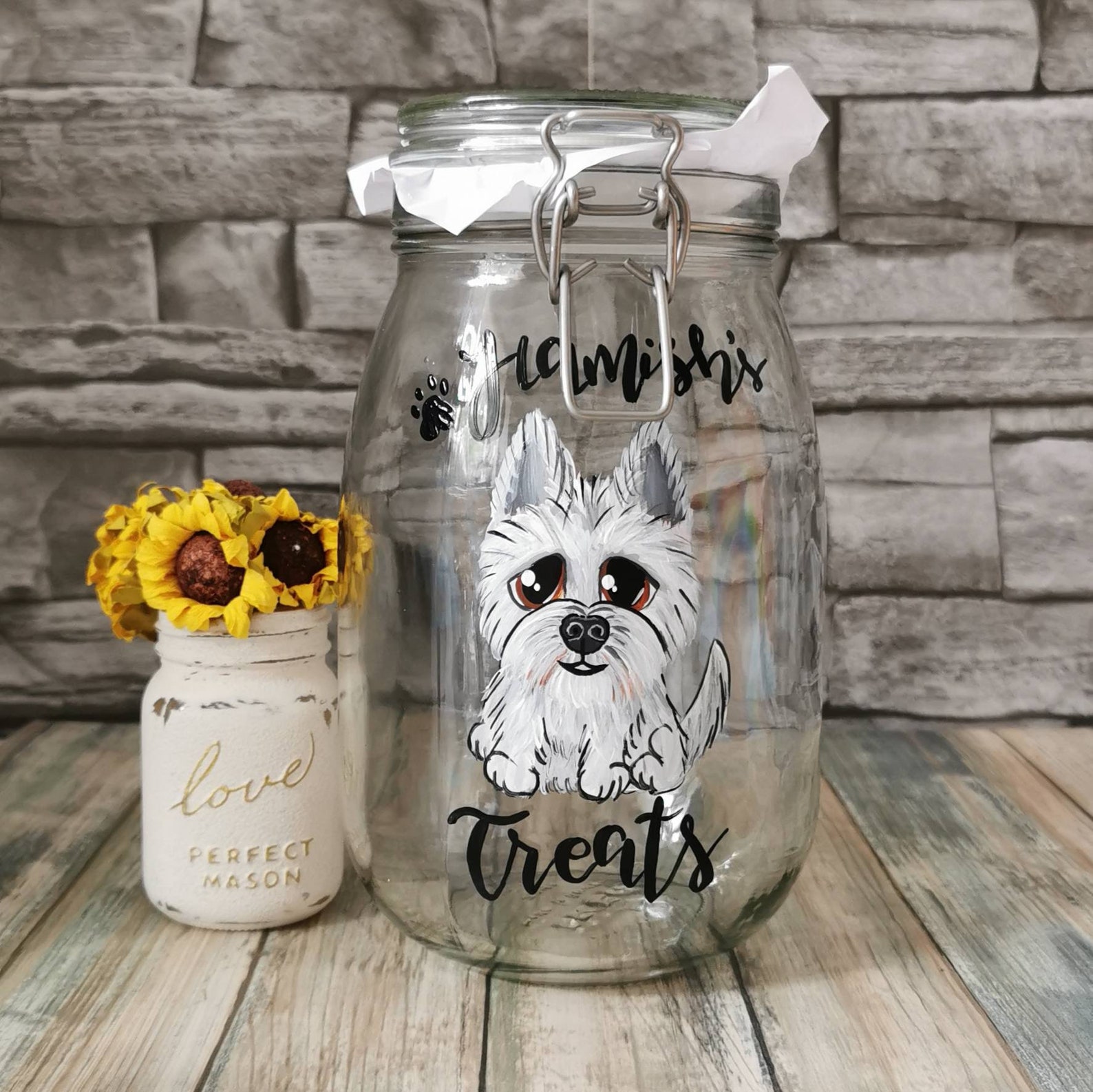 Too many treats to fit in a small treat tin? Then this treat jar is the one for you. What makes this absolutely adorable, is it comes with an adorable caricature painting of your dog! It even says 'paws off' on the lid, so all the other dogs know these are not their treats.
Do You Love Baking Homemade Treats?
We hope that we've inspired you to get your bake on! Let us know in the comments below, if you're an avid doggy baker!
Which of the items shared above is your favourite? Do you have another favourite seller on Etsy or Not on the High Street that sells beautiful baking essentials? Let us know in the comments below!