Dog Furiendly is supported by our tail-wagging readers. When you buy through affiliate links we may earn an affiliate commission. Click here to find out more.
Floral fashion is in full bloom. Etsy is bursting with dog bandana designs complete with pretty petals and perfect pastels. These bandanas are a fun fashionable way to put a spring in your step. Florals are not just for the gorgeous girls by the way, any handsome hound could rock these designs too.
We're sharing our pick of the bunch. All of the dog bandanas in this guide are created by small business owners on Etsy.
Things to Consider
Make sure your dog is happy and comfortable wearing a dog bandana. Most dogs are fine, but if your dog shows any signs of stress, then please don't force them to wear it. Your dog's happiness comes way before fashion and fun!
When measuring your dog's neck, bandanas should be loose enough for you to comfortably slip two fingers between the neck and bandana. This is to make sure it doesn't restrict breathing or movement.
---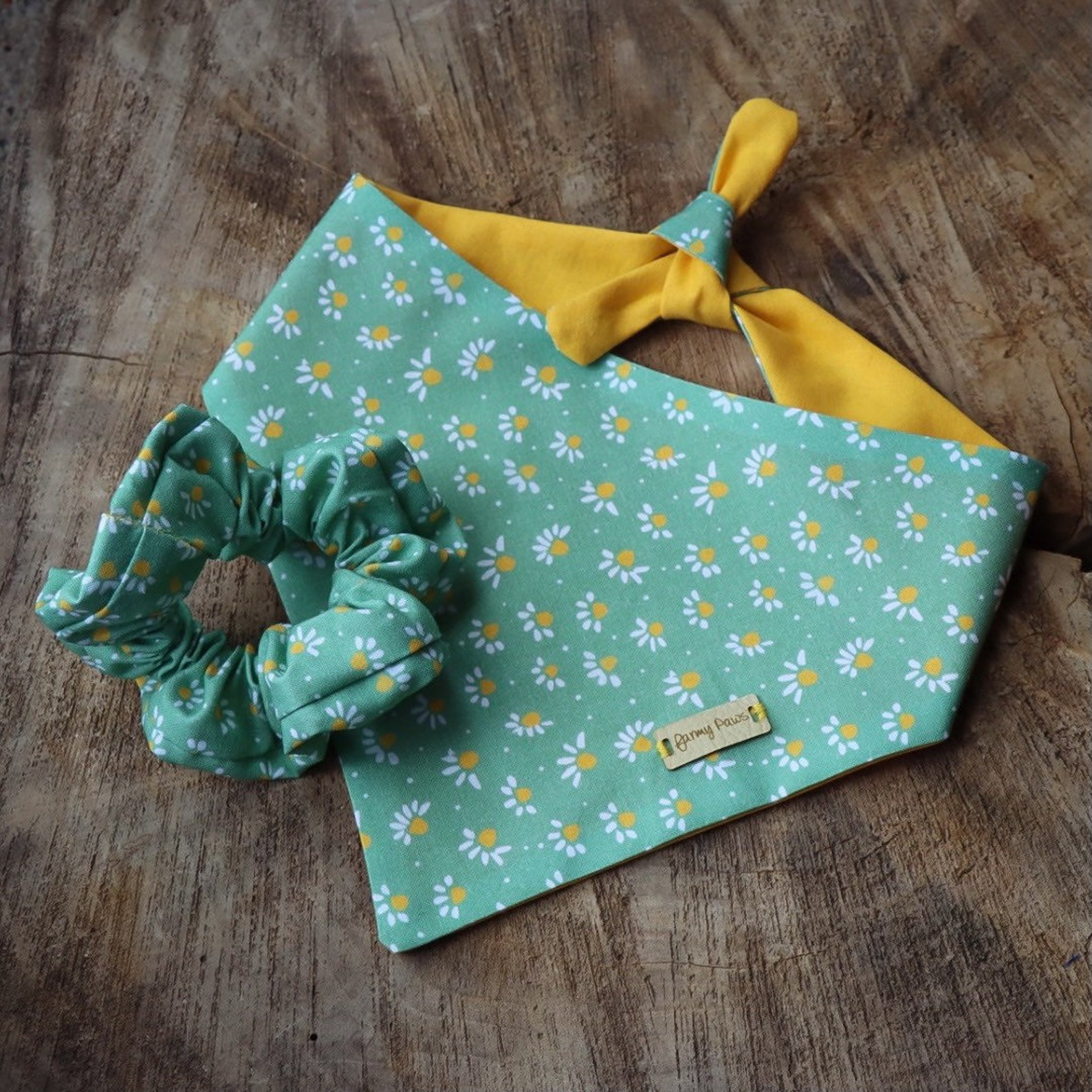 He loves me, he loves me not. No need for answers with this pretty Farmypaws bandana. You and your dog can show your love loud and proud with this matching set. As featured on the gorgeous Dalmatian above.
One of the prettiest things to come out of natures Springtime bloom is the beautiful Cherry Blossom trees. This design nods to that beauty, in shades of pink, blush, taupe and oak. The bandana itself is made from polycotton fabric with a slinky drape finish for that added fashion luxury.
Each bandana is tie-on, so no need to faf with buckles or fasteners. Simply tie around your dog's neck to fit.
We love this range of navy floral designs from Wagga Swagga. Not only can you get a pretty bandana, but a collar, bow and flower. This slip-on bandana is completely handmade with 100% cotton and double-layered for extra comfort and strength.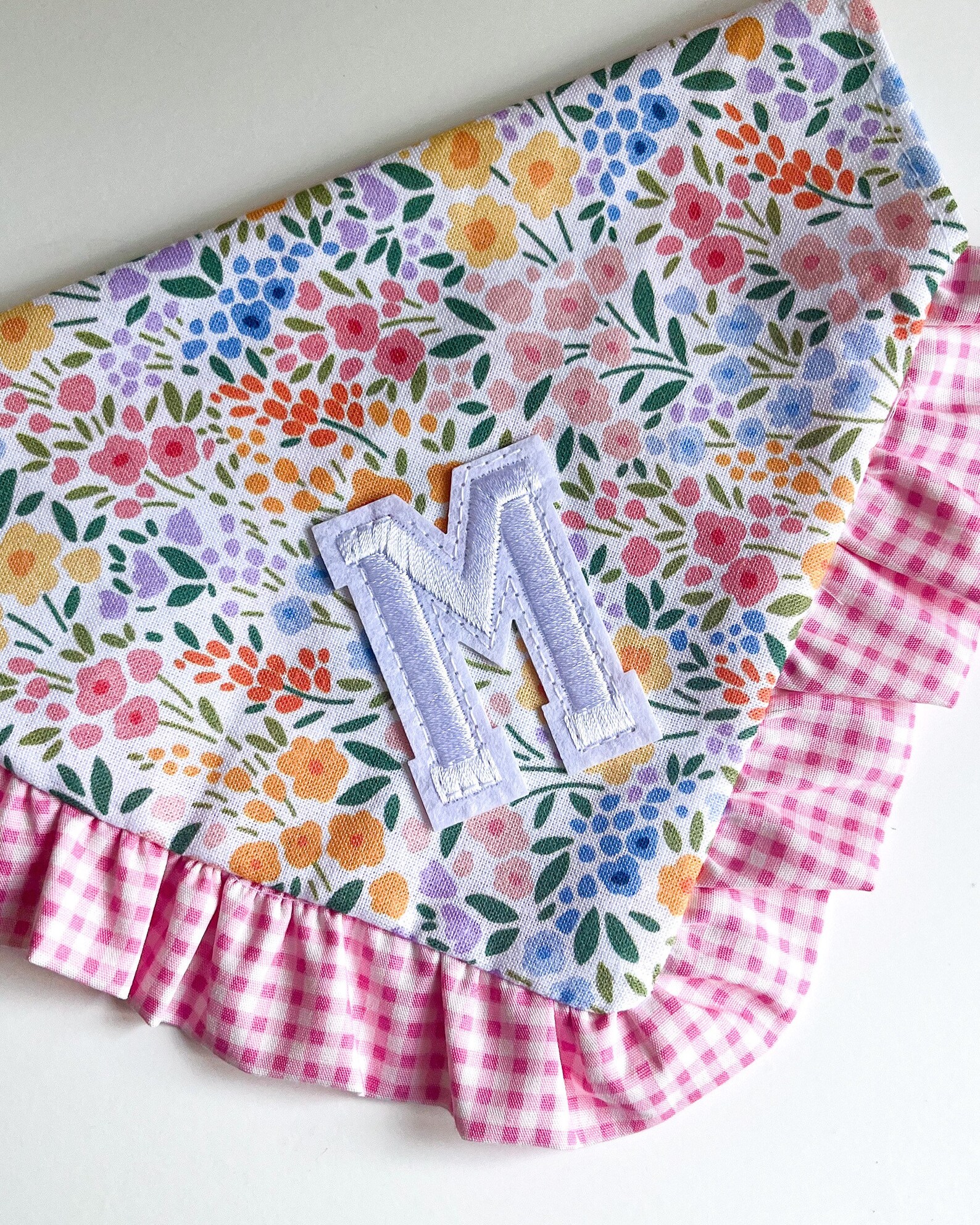 We love these pretty bandanas from TRIXABOO. As if the design wasn't dreamy enough, you can even have your dog's initial embroidered onto the bandana. The bandana is made to slip through your dog's collar.
Spring is definitely in the air, with joy, fun and plenty of laugh-vender. Yup our puns are getting worse. Your dog will look will look as pretty as a picture wearing this lilac bandana, which comes with a reversible design.
The front side has a gorgeous lavender print, while the back has a purple tie-dye effect design. 'The bandana is finished with plastic poppers for a secure fit.
Our bandana guides are never complete without a design from Albies Boutique. They have a doggy bandana for every occasion, and Springtime is no exception.
We adore this reversible bandana. On the one side is a bright teal material with a vinyl print saying 'Hello Flower'. The other side has a gorgeous multicoloured ditsy floral fabric. The bandanas each have a popper fastening for that secure fit.
This pretty bandana is full of fun, making it the perfect addition to any Springtime collection. The bandana is handmade featuring a beautiful daisy print and white fluffy pom-poms.
Each bandana is made to slip onto a collar for a secure fit.
These floral bandanas and matching scrunchies are super cute. Created in three different colours, there's something there for every pup. Each bandana is handmade and made to slip-on your dog's collar for a secure fit! We'll take one in each colour, please!
We adore this pretty floral print from Blonde Dog Boutique. The Liberty Tana Lawn fabric features a sweet blue rose trail, with pretty pink, green and yellow colours weaving through. Each bandana is handmade in the UK, designed to slip-on a collar for a secure fit. Matching collars and leads are also available.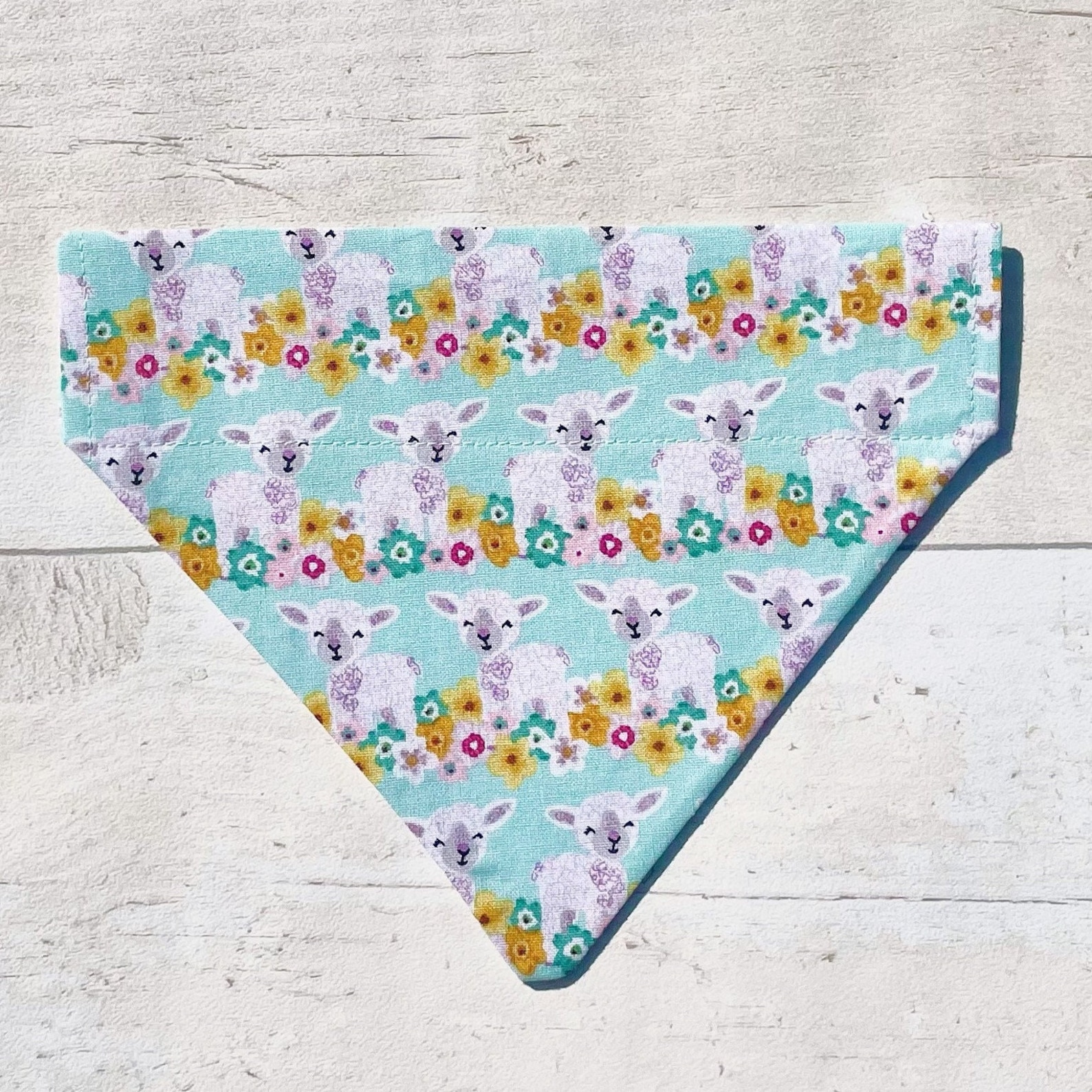 This bandana is baaaaaaaa-dass! Sure to put a smile on the face of any passerby. Each bandana is handmade with love and cotton materials. It's designed to slip through your dog's collar for an easy secure fit.
This bright bandana will certainly make a Springtime statement. The bandana is handmade with a beautiful floral springtime print and is designed with poppers for a secure fit. You can also get it personalised to make it your own.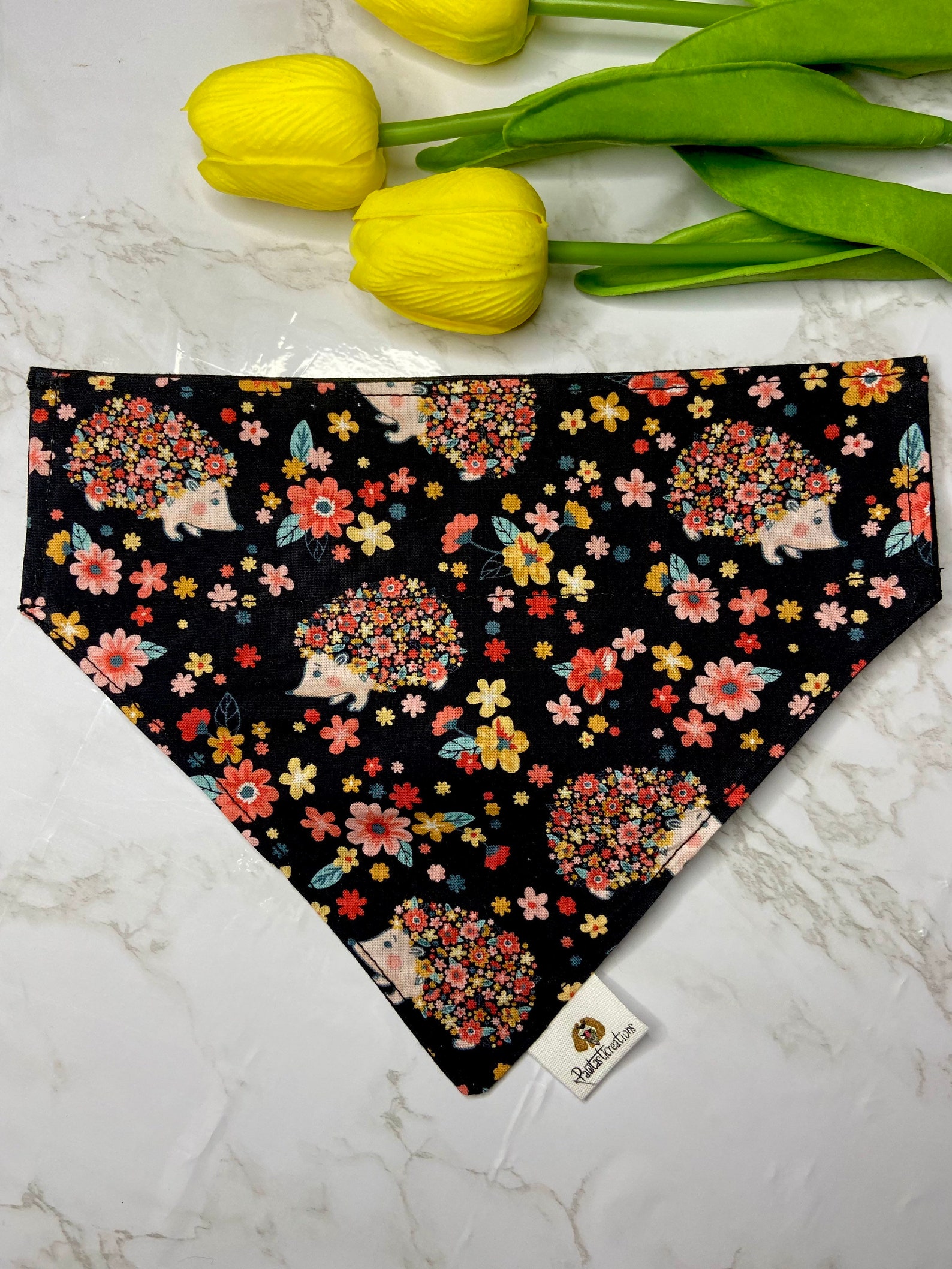 These bandanas are super sweet. Each side with a ditsy little hedgehog, covered in pretty florals. Bandana slips through your dog's collar for a safe and secure fit.
Share Your Floral Dog Bandanas
Whether you're into bandanas, bows or the newest trend neckerchiefs. Share your photos and comments with us below. Do you have a favourite Etsy bandana seller? Have you bought a floral bandana to celebrate Spring? Let us know in the comments below.
Click here for some of our Summertime favourites.