Dog Furiendly is supported by our tail-wagging readers. When you buy through affiliate links we may earn an affiliate commission. Click here to find out more.
Throw your dog's dad a bone and treat them to a gift from their furry bestie!
These 20 pawfect dog dad gifts have been carefully selected by dog dads themselves to cater for all types. Whether they're 'Dad to the bone', into sports or the latest gadgets. Find the pawfect dog dad gifts below.
---
At the top of most of our dog dad's gift list was this tennis ball blasting Nerf gun for £14.99.
This Blaster launches tennis balls up to 50ft in the air for your dog to chase and catch. You can dial the blaster back to go shorter distances and you can pick the ball back up hands-free (hurray for no muddy hands).
The main Tennis Ball Blaster can be found here. It doesn't come with balls but can use any standard tennis ball sizes.
A great way for father and dog to build that special bond with the ultimate game of fetch.
Next up on our dog dad's gift list is this Star Paws, sorry Star Wars inspired t-shirt.
This is perfect for the dog dad's who love geeking out – and while they're wearing it, the Darth Vador in your dog's life can finally say 'I am your father'. Grab the t-shirt here, and may the force be with you.
In dog beers, every 7 = 1, and our dog dads couldn't agree more. This sign had them rolling with laughter. The perfect dog dad gift for the beer lover in your life.
This would fit nicely in your dog Dad's man cave, or if they're lucky enough to have one, in their very own bar. Hmm, only if we had some dog beers for the dog?
For Dog Dads Who Love To Play Board Games: Woof Board Game
Is dad into board games? We had a couple of board games picked out by our dog dads, but this one took the golden bone. It's a game the whole family can play, including the dogs.
In this board game, there's questions for humans and simple tasks for dogs. Winners collect bones as a reward. The first team to complete the tasks wins and if the dog earns more bones than you during the game, you've guessed it, the dog wins! Grab your tail-wagging board game here.
We love a personalised gift and our dads agreed! This mug is perfect for that fresh morning brew, at home or in the office. There are over 60 dog breeds available to and they're more than happy to make adjustments if your dog type or colour isn't available. Create your perfect mug here.
Dads love a t-shirt! But when it has a good ole film quote like this one from Scarface, and you get to match with your little friend then what a treat. Grab this matching dog dad gift, perfect for those gangster dads and their pawtner in crime.
Perfect for the lazy dog dads among us, or for those who have a busy schedule of gaming (uh, hello Call of Duty).
This interactive smart toy is your pups very own gaming device that plays and wears your dog out. It comes with a phone app so your dog Dad can control the way it plays and where it moves it from the comfort of your sofa. Or it has an automatic mode which senses your dog's mood and plays with them accordingly.
This smart toy is perfect for keeping dogs healthy and entertained, even when you're at work. You can grab yours here.
Perhaps daad is into building Lego? Our dog dads loved the thought of putting these Larcele sets together. They come in a range of dog breeds, including Corgi, Schnauzer, Collie, Husky, Dachshund, Golden Retriever and Poodle.
They're not easy to build, but the outcome could certainly take a spot on the mantelpiece. You can find these sets here.
For the Dog Walker: Lighted Beanie Hat
This one also came highly rated amongst the 'dog fathers' in our group. Practical and perfect for those Winter or late night dog walks.
Comes in various colours and has a removable rechargeable LED light with 10 hours runtime. Prices for these handy beanies start at just £6.99. Light the way and grab your beanies here.
For the Dog Dad Who's Always Looking for Socks: Personalised Socks
A dog dad's gift guide is never quite complete without a pair of socks. Our dog dads loved these personalised socks. Dogs are notorious for finding lots of fun with socks, and no doubt they've run away with them once or twice! Now you can print their face on there as a memento to all those sock antics.
These socks are individually printed with the patterned photo of your dog and a personalised name on them too. Grab yours here.
This dog camera came highly recommended by one of our dog dads, and we couldn't agree more after our own experience with the Furbo.
The Furbo dog camera makes it so easy to check in on your dog while you're out and about. Using a handy app on your phone, you can talk to them while you're at work and even toss a treat while you're in a meeting.
Give your gadget-loving dog dad the gift of always being able to see their partner in crime. Click here to find out more about the Furbo.
Bowling is so much better when the dog can join you too! Pawfect gift for your dog dad when the virus has passed.
If you're lucky enough to have a dog friendly All Star Lanes ally nearby (London), enjoy a game of bowling with a two-course meal and a cocktail for two.
Another favourite dog dads gift. Make them an offer they can't refuse with a classic pun on an old classic. This t-shirt comes in various colours.
There's nothing that makes dad look more attractive than carrying an awkward, inconvenient and smelly bag of dog poop in their hand for ages looking for a bin.
Our dog dads praised this clever invention which gives them their dignity back. They can put the dog poo in a temporary bin, the Dicky Bag.
This lightweight, odour and leak-proof portable bin can be easily attached to dog leads, trousers, jackets, backpacks and more. Inside the lid, there's a pocket for fresh bags and a replaceable air freshener disc that sits in the bottom and helps the bag smell better when emptied.
Grab your poop saving dog dad gift here.
Who says food isn't the way to a dad's heart? The majority of our dog dads said that a nice meal and pint when all this blows over would be plenty enough. So how about making a promise to it, by purchasing a gift voucher?
Gaucho restaurants are well-known for being dog friendly, with locations Birmingham, Edinburgh, Leeds, Manchester and London. They also have a 'Muttprolitan' treat menu for the dog to tuck into too. Enjoy a three-course dinner for two at Gaucho with glass of prosecco.
Some of Gordon Ramsey restaurants are also dog friendly. We're drooling over bottomless pizza for two at Gordon Ramsay's Street Pizza and the Sunday Roast for two at a Gordon Ramsay's restaurant.
Dog friendly places all across the UK need your support right now and many of them are offering gift vouchers. So, not only does it make a great gift but you're supporting those who need it right now.
For the Dog Dad Who Loves Capturing Memories: GoPro and Pet Harness
Now, this is an expensive choice, but hear our dog dads out.
They may not be selfie-obsessed but our dads enjoy capturing memories of the dog. With the go-pro, they can strap it to their harness to see adventures from the dog's point of view.
This GoPro is waterproof too, so no need to worry about the mud, or if they jump into the water. GoPro can be found here, and a selection of harnesses we're dying to try out can be found here.
It's a great choice to spoil your dog's dad, especially if they've been raking in brownie points with DIY jobs.
For all Dog Dads: Cards
We all love a card, be it for birthdays, Christmas or even Father's Day. These were some of our dog dad's top picks. All of these cards provide that well-deserved giggle. We love the Dog's Doo Dahs from Amazon, but Scribbler has a whole host of funny cards to take a look at.
Give your dog a big muddy paw, and sign it with love.
For the Dog Dad Who Hates Cards: Dog Dad Notebook
Some of our dads said that they could probably live without a card after all 'it will be in the bin within a week'.
However, they did throw us an alternative to a card. A notebook with that loving message, and for just under a fiver. Grab yours here.
When this all blows over, we'll all be dying to get away, our dog Dad's certainly were! Surprise your dog's Dad with a staycation in one of these lovely UK breaks.
Head down to the Shire for a staycation so good you'll want more-door. That's right, if they're a fan of Lord of the Rings then they'll love this Hobbit Hole in Cumbria.
Want a bigger choice? Why not go for this multi-voucher and give them the choice. From cosy cottages to friendly B&B's there's a large list of short breaks to choose from with this voucher.
Gift For Dad's Keys:
Now Dad can take his furry best friend with him wherever he goes! Our dog dads loved this keyring and agreed it saves time getting out the phone photos. This is truly a one of a kind gift and you can grab yours here.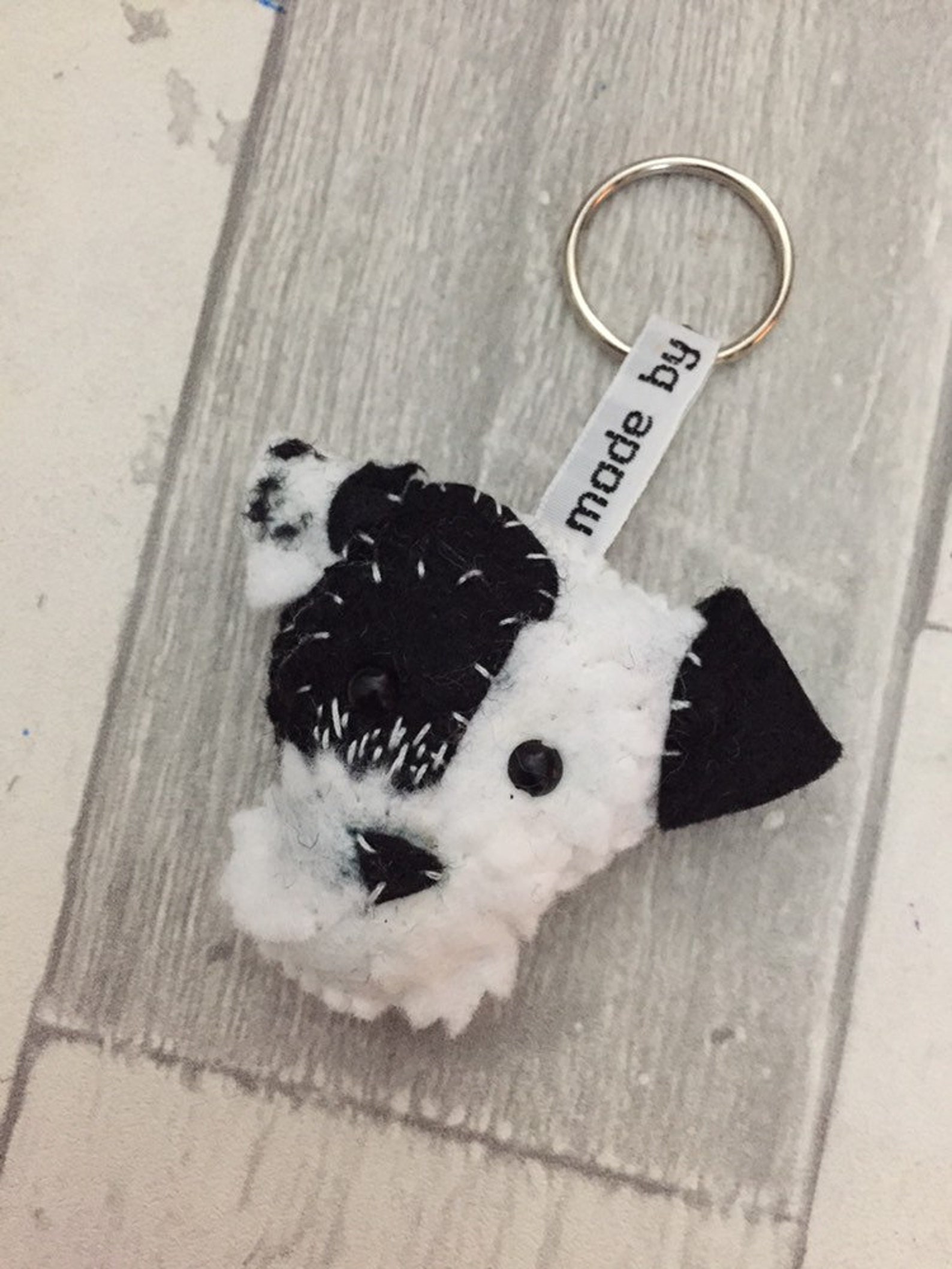 Any Other Dog Dad Gift Ideas?
Help others who are thinking of gift ideas by popping your ideas below. Alternatively, let us know if this has helped you on your quest to get the pawfect gift.