Dog Furiendly is supported by our tail-wagging readers. When you buy through affiliate links we may earn an affiliate commission. Click here to find out more.
We all love to light a scented candle from time to time. Whether it's for the aroma, decoration or mood. While we're cosy by our candle, we tend to forget about the effect it will have on our dogs. Sparking the question, are scented candles toxic to dogs?
Of course, you need to make sure that it is out of reach so it's not knocked over by an enthusiastic waggy tail! But did you know, the wick, the wax, and the aroma could affect our dog's health? We didn't!
Are Candles Bad For Dogs?
The short answer? Yes, candles can be bad for your dog. Many candles emit nasty toxins and chemicals into the air. These toxins can be harmful to both humans and dogs. We both breathe these nasties into our bodies and bloodstream.
Unfortunately candles aren't regulated and companies are not required to list the ingredients used. So who knows what toxins emit once the candle has been lit?
It's not just the ingredients we need to be mindful of. Just like us, dogs could also be allergic to other parts of the candle, such as the scent and chemicals that go with it.
There are many ingredients you should look out for while selecting your scented candles, not just for the health of your pooch but for your own safety too.
Candle Ingredients To Avoid:
Lead: If the wick has a metal core, containing lead this could affect the central nervous system. Symptoms that your dog's affected include chomping at the jaw and in-coordination.
Paraffin wax: Found in the majority of candles. Made from petroleum waste, best not look into what that is. If inhaled, this could cause nausea and headaches, it also releases carcinogens when burned.
Acetaldehyde, Formaldehyde, and Acrolein: these nasty toxins reduce the air quality we breathe.
Benzene: This is a known carcinogen and comes from the burning soot in a candle.
Toluene: This could come from the soot and is dangerous to the central nervous system.
In addition to this, avoid artificial scents and colours.
Dog Friendly Candle Alternatives
The good news is, there are many natural, alternative scented candles that aren't harmful or toxic. Not only do they have stronger scents, but they have a longer burn time and therefore last longer.
The best candles to buy that have little, to no effect on us and the dogs, should be beeswax, coconut wax, natural soy or vegetable-based wax. The wick should be lead-free, we recommend sticking to 100% natural cotton (unbleached), paper or wood.
The candle scent should come from natural essential oils, but we recommend researching the scents as oils like clove can be harmful for dogs.
Alternatives include electric candles or essential oils, but be sure to dilute the essential oils before diffusing them.
We love natural, organic, and healthy candles the most. Here's a breakdown of some of our favourite natural candles shipping from the UK and US.
Dog Friendly Candles In The UK
Not only is this candle super safe for our pooches, but it comes with a big eco footprint. The product is free from plastic and acid made from 90% recycled materials (and it's fully recyclable).
This soy candle is scented with pure lavender essential oil, perfect for sending your pup to snoozeville.
This lovely candle is Hand poured in the U.K using natural ingredients, wicked with a pure cotton trim that will light up to 40 hours.
This wonderful company, speaks fluent dog (and cat), creating the pawfect dog friendly candle. This company was born after cat Tinks got diagnosed with asthma. They discovered that shop-bought candles & wax melts were not safe for pets (and humans).
So they created a range of candles using only natural ingredients: essential oils, cotton wicks and rapeseed wax. Each candle is made with 100% pure essential oils, meaning nothing but the extracted plant product is added to the wax. Enjoy a herbaceous, earthy, slightly floral scent with the Clary Sage candle. Oh and did we mention, all packaging is eco-friendly! Bonus points!
This gorgeous candles are lovingly hand-poured in Hampshire. Containing an all-natural blend of rapeseed and coconut wax, and 100% pure essential oils.
Candle creator Rebekah became a first time Dog Mum to Cooper in Summer 2019. After researching ways to living an all-natural life together, she was shocked to discover that most mass-produced candles could actually be harming our furry family members!
So she set out to create a range of natural candles that smell great and encapsulate her style. There's a range of fragrances for you and your dog to enjoy together, but anything with a whiff of lavender will help your dog to relieve stress.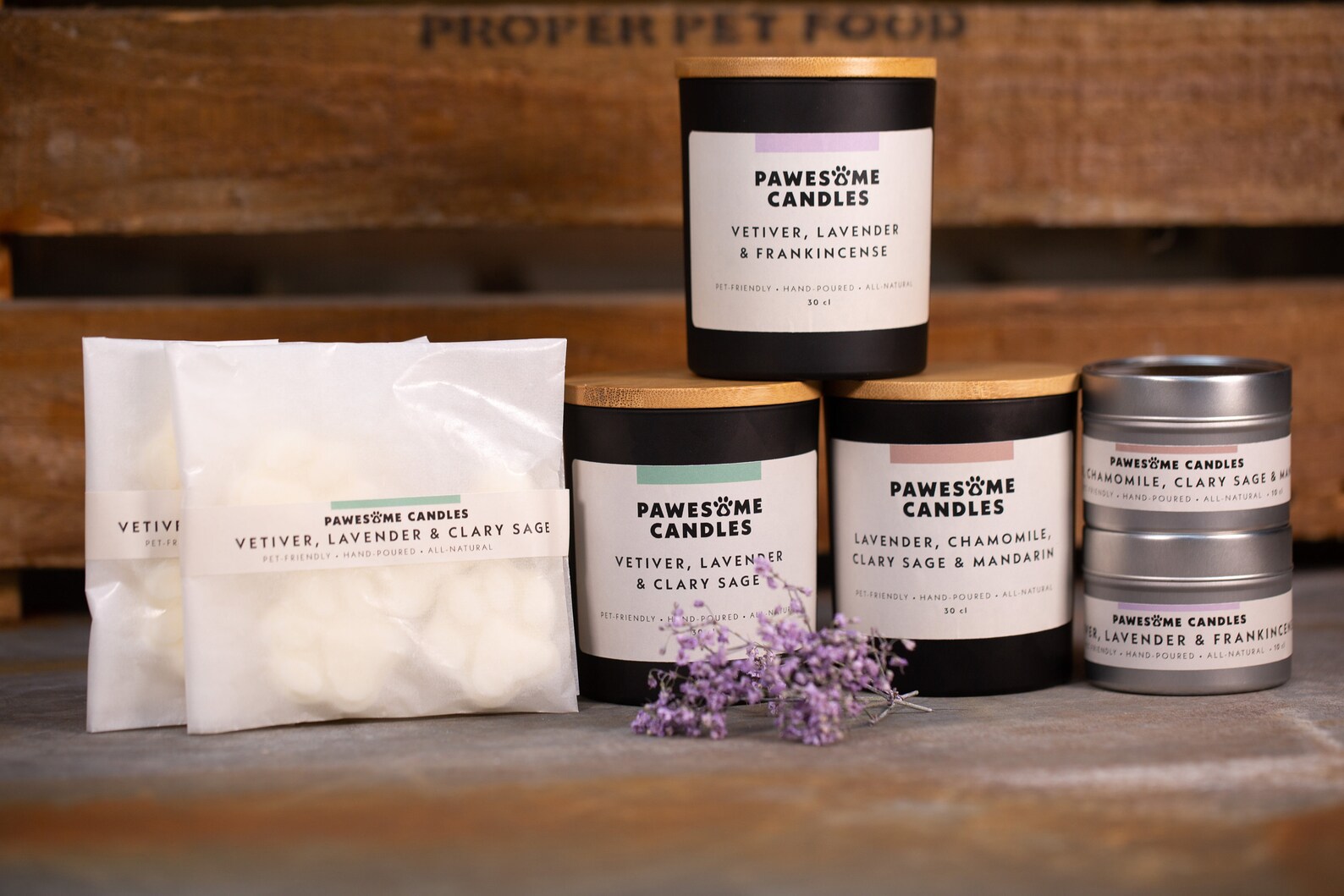 This beautiful candle was the result of endless research studying essential oils use for canines! This candle has been hand-poured, made from soy wax with a natural cotton wick and 100% pure essential oils. No toxins, no chemicals, completely safe for our pooches.
This candle is ideal for relaxing and has an average burn time of around 30 hours.
These mini travel candles are reasonably priced and made out of made of soy wax with a 100% cotton woven lead-free wick. Each candle burns for up to 30 hours.
They're made with aromatherapy oils and come in four fragrances that are safe for dogs; gardenia, jasmine, French vanilla, and lavender.
What we love the most about these is the decorative tin the candle is used for can be re-purposed afterwards as a little home accessory. They also make great gifts!
Neom creates 100% natural fragrances with true aroma-therapeutic benefits and inspiring women to lead healthier, more balanced lives. This one is Neom's bestselling scent, a complex blend of 24 relaxing oils including lavender, jasmine and Brazilian rosewood.
The divine fragrance hits you as soon as you open the box. The scent intensifies when it's lit, scenting the whole house. It also has 50 hours of burn time, meaning you can relax for hours on end.
DOG-ABOUT-TOWN was born out of the love for a pair of adorable Frenchies called Betty and Ivy. Founder Tom Leonard-White was frustrated by the candles on offer which were made with unhealthy paraffin wax, harsh chemicals and enzymes. So he found himself researching natural ways to mask 'doggy odour'.
Eventually, Tom took the plunge and created a range of candles and home fragrances using 100% natural soy wax, cotton and linen blend wicks, premium fragrances and pure natural essential oils. Each contained in aromatherapy grade amber glass jars to protect the natural botanicals from sunlight. Click here to read our interview with DOG-ABOUT-TOWN.
The range of candles they have on offer contain 100% sustainable and natural vegetable wax, high quality phthalate-free perfumes and a carefully curated mix of pure essential oils that are proven to have anti-microbial, anti-fungal and cleansing properties to naturally neutralise pet and other household odours in the air.
They smell so heavenly you will feel any stress slip away from the first whiff.
---
Dog Friendly Candles In The US
These candles offer a great alternative to soy and beeswax, as they're made with pressed organic coconut wax. They also feature pure aromatherapy grade essential oils and an organic cotton wick.
This candle is a 'Dream', the vanilla and lavender scent will help relieve stress and enhance sleep for you and your pooch. They're also hand poured into a reusable 24K gold stamped gorilla decor cocktail glass!
If that wasn't enough to love, above all of this they also donate 10% of the proceeds to ethical non-profits working on Elephant, Gorilla, and/or Lion Conservation.
These candles look good enough to EAT (but please don't eat them). These candles are made with 100% soy wax, each naturally scented to avoid any potential harmful ingredients.
They come in a range of fun flavours including Ice Cream Sandwhich, Blueberry Donut, Berry Trifle, Peppermint Puppaccino, BarkDay Cake and more.
Super effective at removing unpleasant smells and a tail-wagging scent to leave your home feeling clean and fresh.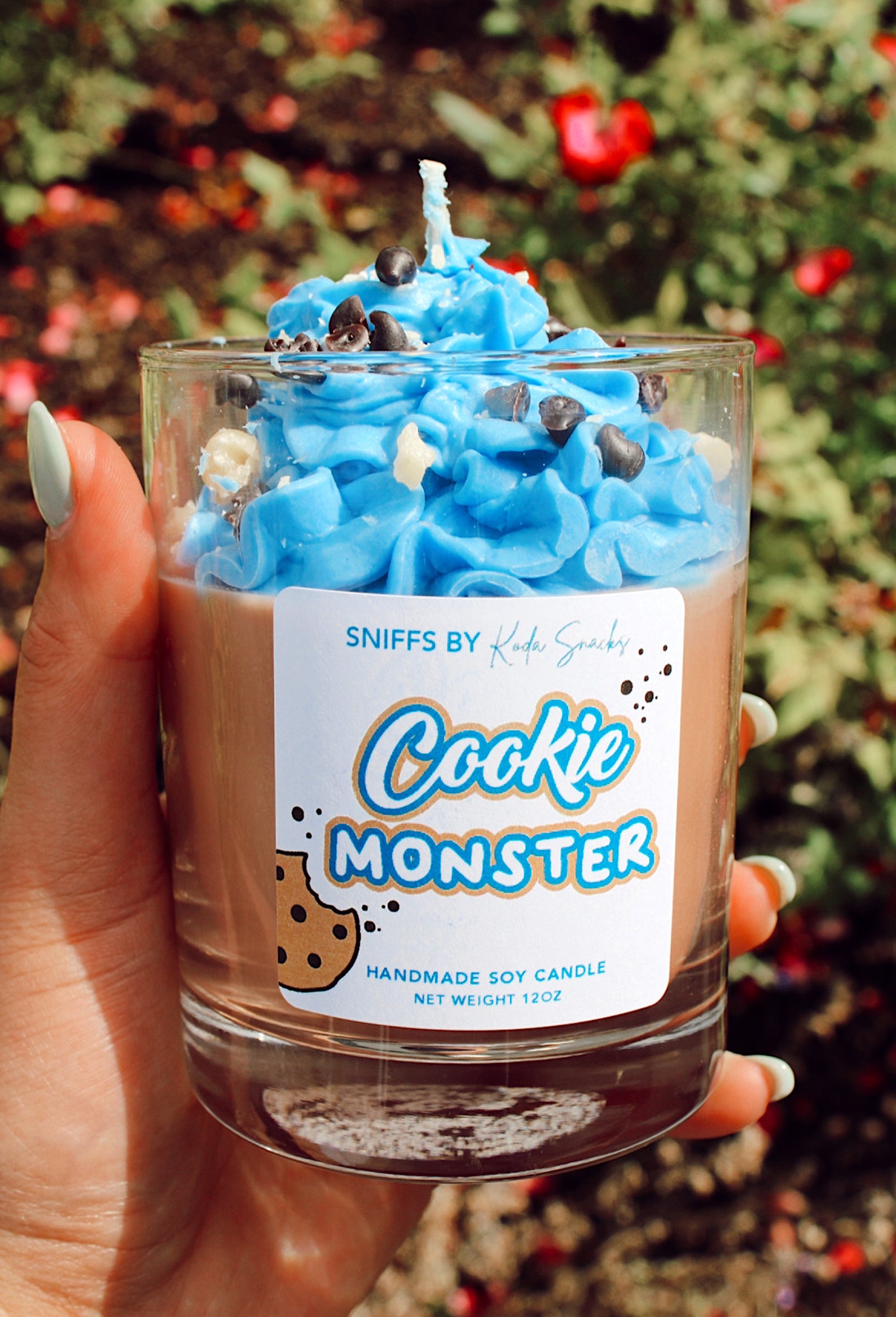 We love the look and fragrances available from Pawsitive Collections. These soy candles are beautifully designed with your dog always in mind. Each comes with a wood wick which creates a relaxing fireplace crackle sound.
What's more, after enjoying up to 60 hours of burn time, you can use these reusable glass containers for spices, office and bathroom supplies, or a beautiful plant when the candle is gone.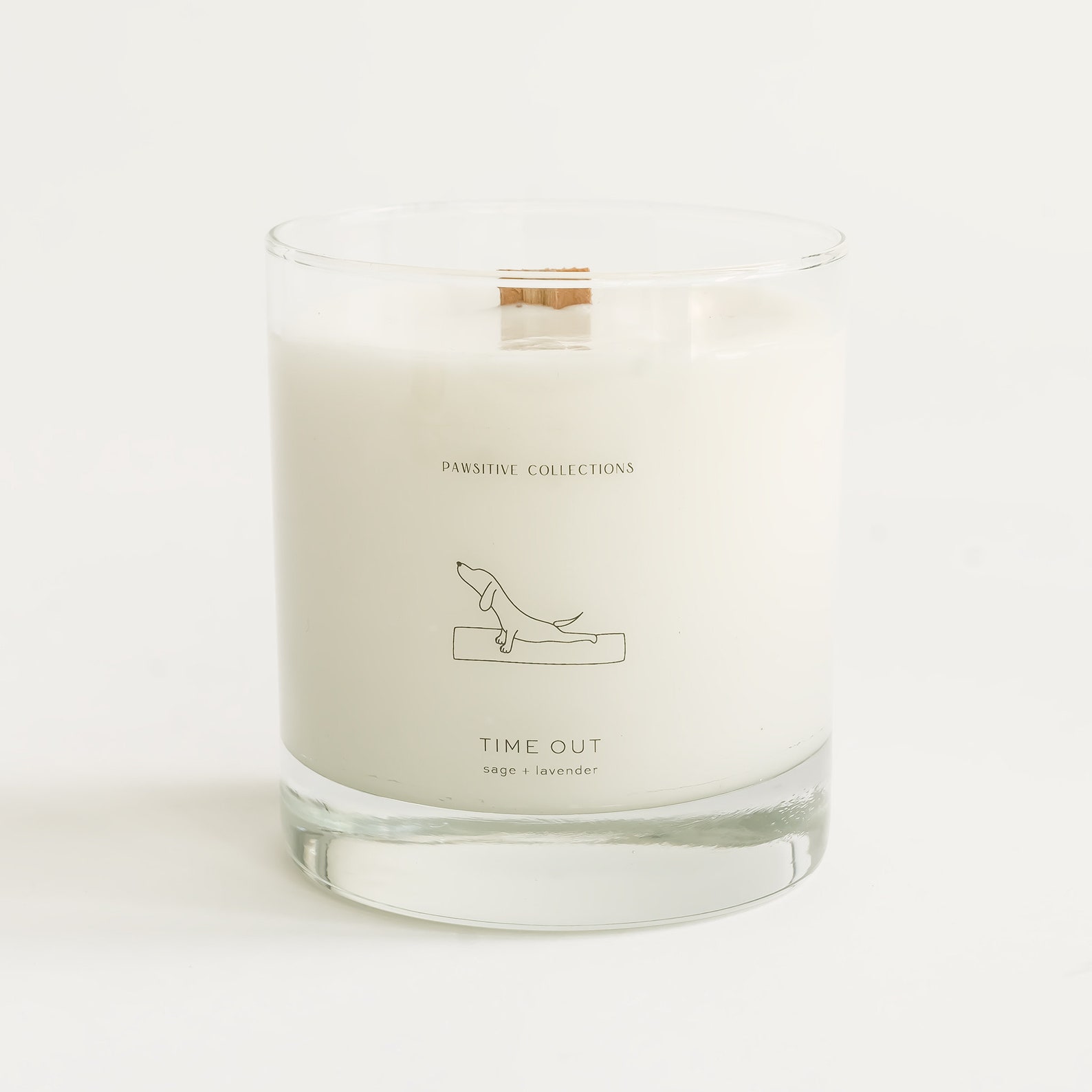 Do You Have Any Dog Friendly Scented Candles?
Let us know in the below, or via Twitter, Instagram or Facebook!