Rug Doctor offers the best products on the market to keep your carpets and house free of stains from your pets.
If there's one thing all dog owners can agree on it's that it our little angels can be messy. For all the happiness that they bring into our lives there's also a fair share of mud, paw prints and maybe even some wee on the carpets.
Luckily, products are available to combat these little stains that build up over time. All of Rug Doctor's products are designed with pet parents in mind.
Rug Doctor Pet Portable Spot Cleaner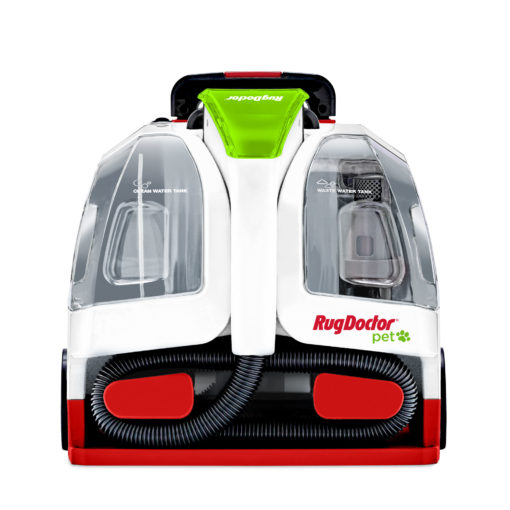 This dual-action pet tool is specifically engineered to make cleaning up after your pooch the easiest it has ever been. Tackle everything from moulted hairs to stains on the carpet and lingering odours. The device is equipped with rubberised bristles able to pick up dog hairs from rugs, carpets, stairs, furniture, mattresses, upholstery and pet beds.
Engineered with twice the suction power of other comparable portable spot cleaners, Rug Doctor's Pet Portable Spot Cleaner extracts pet accidents and messes from soft surfaces. Professional-grade suction eliminates deep-down pet stains and odours at the source and makes cleaning up pet accidents both easy and fast!
It's easy to roll and navigate around your house. Features like the carpet-friendly wheels and retractable handle mean that the device is simple and easy to use while being compact and easy to store. The small size makes for easy storage in cabinets, closets, pantries and more.
Tackle dirt and grass stains, eliminate pet accident stains and even deep clean your dogs favourite sleeping areas that get matted down with oils. Pet Portable Spot Cleaner pairs with Rug Doctor's powerful pet formula cleaning solution to destroy stains and odours caused by pet urine, faeces, vomit, blood, drool and more.
The Portable Spot Cleaner can be used in your car and vehicle because we know how messy those pooches get in the back sometimes!
Pet Formula Carpet Detergent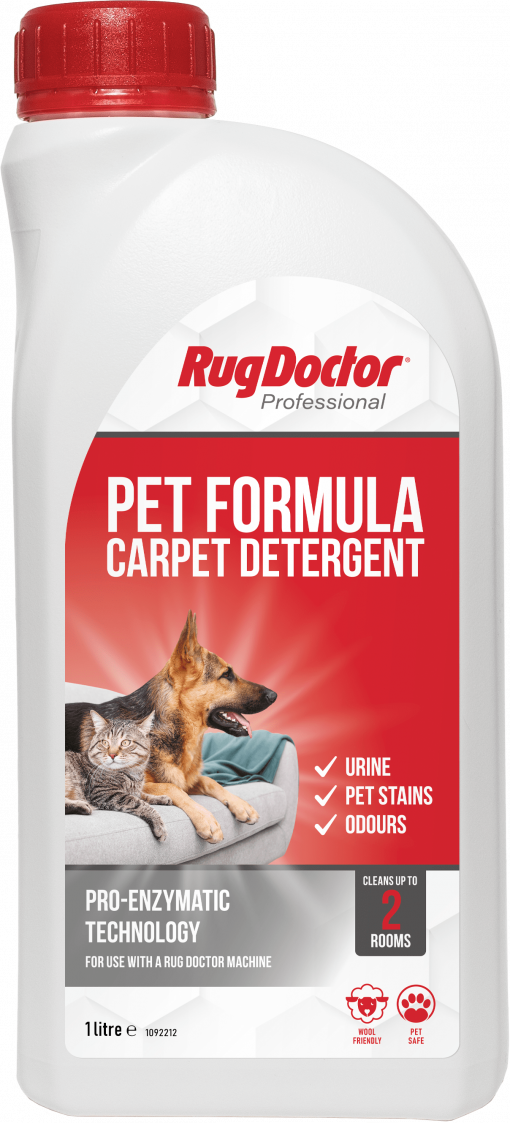 As much as we love our dogs they can bring all kinds of messes into our home. They bring grime in from outdoors, leave puddles that cause stains and smells and can even trigger allergies/breathing issues.
Homes with pooches need a deep carpet cleaning solution. This cutting-edge formula from Rug Doctor attacks pet stains on carpets and upholstery. The solution dissolves urine crystals, eliminates odours, removes oils and banishes protein stains. It also helps remove faeces, vomit, bile, blood and more!
In addition to removing the mess the Pet Formula Carpet Detergent helps prevent your dog from re-marking the area. Without the sticky residue that urine leaves you'll notice a reduction in household dirt build up. Leaving your home free of grime and odours.
Urine Eliminator

Rug Doctor Urine Eliminator is extremely effective at removing natural stains like faeces, blood, vomit and urine. The solution removes nasty stains and odours and is especially effective against acid based stains.
This product is a must for dog owners and is especially handy if you're in the process of training a puppy. I think we all remember how messy that is!
With this formula you won't have to worry about carpet or upholstery damage due to your furry friend having an accident. Urine Eliminator is ideal for households with young children and can be used as a pre-treatment prior to a Rug Doctor machine cleaning.
Spot & Stain Remover

Made to tackle nearly every kind of commonly occurring household stain. Just spray the formula heavily along soiled areas for an effective stain removal boost.
Rug Doctors Spot & Stain Remover is the solution to everyday stains and spills. Usable on carpets, fabrics and upholstery and non toxic to dogs. The formula is usable on woollen carpets where it targets the stains without damaging the fibres!
This formula is effective on food, wine, grease, make up, coffee, dirt, ink, soot and grass stains.
Carpet Fresh With Odour Remover

Rug Doctors' innovative cleaning solution is the perfect remedy to foul smelling carpets or upholstery. The enzymatic formula breaks down odours at their bacterial source, leaving nothing but fresh smells through your house. Can be used with a Rug Doctor cleaning machine or as a standalone cleaning solution.
Carpet Fresh is also an effective stain removal treatment and is friendly to thicker woollen fibres. It is also pet safe. Carpet Fresh is effective against odours including food, smoke, animal waste, mildew and vomit odours.
Heavy Stain Pre-Treatment

Rug Doctor have specially formulated this treatment for the removal of embedded dirt and grease. Especially useful for high-traffic areas of your house such as hallways and stairs.
The carpets around doorways and in hallways can experience build ups of dirt and grease. The bacteria from muddy shoes and mucky paws become embedded in the carpet fibres over time. This powerful pre-treatment agent restores your carpet's original colour.
Intended for use before a deep clean with a Rug Doctor specialist machine. Heavy Stain Pre-Treatment removes embedded dirt, grease, soil, tar, varnish, make-up and wood stains. Your carpets will look clean and smell fresh.
Spot & Stain Remover Wipes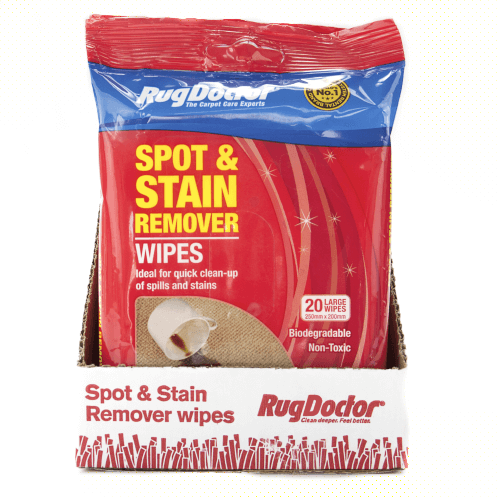 The power of Rug Doctor's cleaning power in a convenient packet of disposable wipes. These Spot & Stain Remover Wipes tackle virtually every kind of household spill or stain. This includes coffee and tea stains, food stains, grease and oil stains and make up stains.
Non toxic and biodegradable, these wipes are kind to the environment and your carpets. They are suitable for use on fabrics and upholstery meaning they can remove stains from your cars interior also.
Rug Doctor Hire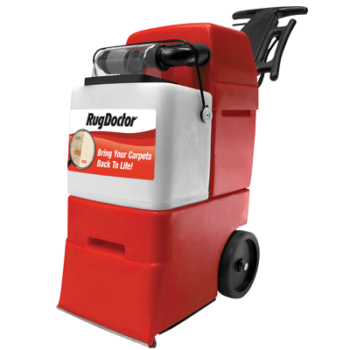 In addition to fantastic cleaning products you can also rent Rug Doctor machines. Hiring someone to clean your carpets can be expensive, why not join over a million happy customers every year and rent a Rug Doctor?
A Rug Doctor will transform your tired and old carpets. The award winning cleaning process removes the dirt and grime that lurks deep in the fibres of your carpets. The combination of Rug Doctor's unique vibrating brush technology and the powerful detergents lift dirt and stains revitalising your carpets and home.
The standard machine costs £24.99 for a 24 hour hire or £29.99 for 48 hours. Alternatively the wide track machine for larger carpeted areas costs £28.99 for 24 hours or £32.99 for 48 hours.
For more articles on stuff to buy click here.