Dog Furiendly is supported by our tail-wagging readers. When you buy through affiliate links we may earn an affiliate commission. Click here to find out more.
Every mother deserves to be appreciated, and dog mamas are no different! From cleaning up their fur babies' poop, to bathing them, playing with them, walking them, loving and adoring them… dog mums truly are one in a million.
Looking for a way to show appreciation to the dog mum in your life? Or looking to treat yourself? We've pulled together a collection some of our favourite dog mum gifts.
Dog Walking Bag – Barking Bag
This amazing bag is the perfect gift for all dog mums out there. With its stylish design and water-resistant fabrics, it's sure to turn heads on the dog walk. But that's not all – this bag is specially designed to hold everything needed for a dog walk, from toys and balls to spare leads and, of course, plenty of poo bags. No more embarrassing moments of searching through pockets for a poo bag.
So, why settle for a boring old bag when you can get the dog mum in your life a Barking Bag? Say goodbye to soggy pockets and hello to stylish, practical dog walking.
Forget a bouquet of flowers or box of choccies, how about a festival experience to make any tail wag with excitement? We're talking about Dogstival at Broadlands Estate in Romsey! This two-day event is packed full of dog-approved entertainment.
At Dogstival, there's something for everyone – from arena displays featuring 'Little Nippers and Terriers' show plus the Shetland Pony Performance Team racing around the main arena. There are even 'have a go' activities like flyball, agility, and a Barkour adventure playground. And for those water-loving pups, there are giant splash pools!
But Dogstival isn't just for the dogs – there's plenty for humans too, like live music and a vintage funfair. And if you're looking for some tips on keeping your dog in tip-top shape, head to the Canine MOT Centre for some fun games to test their speed and nose power.
And let's not forget about the dog-friendly pub, created in partnership with Dog Furiendly. There will be doggy discos, street performers, doga, and even a big pub quiz. Plus, there's Pawsecco and dog beer to quench those canine thirsts.
With over 140 retailers to explore, Dogstival's Summer of Love is the ultimate festival for dogs and dog-lovers alike. So why not treat the dog mum in your life to a weekend of fun and furry friends?
Now, let's talk about dog mums. They're a special breed of human who love their furry children more than anything in this world (sorry, non-dog related things). They spend countless hours walking them, playing fetch, and snuggling up with them on the couch. And let's be real, they have more photos of their pups on their phones than they do of themselves.
So, what could be a better gift for these devoted dog mums than a bespoke "We Are Family" print? Not only does it celebrate their family, but it also includes their furry baby. That's right, there's a little paw print on there just for them! It's like a personalized family portrait, but with the added bonus of your furry friend being included.
And let's not forget about the beautiful foil hearts that represent each human in the family. They'll add a touch of elegance and sparkle to any room, and they'll serve as a constant reminder of the love that exists within their family, furry members included.
Plus, with four different color options and three different sizes, you're sure to find the perfect fit for any home. Our personal favorite? The rose gold foil. Because who doesn't love a little bit of shimmer and shine?
So, whether you're looking for a Mother's Day gift, a birthday present, or just a little something to show your appreciation for the dog mum in your life, the Bespoke Foil Co's "We Are Family" print is the perfect choice. Trust us, they'll love it almost as much as they love their furry children (almost)
Not only is this mug super cute, with its adorable script font and doggy paw prints, but it's also functional! This mug is perfect for dog mums who need their caffeine fix to keep up with their furry best friends. And the best part? It's dishwasher and microwave safe, so she can use it every day without worrying about it getting ruined.
But wait, there's more! This mug isn't just any ordinary mug. It's personalised by the dog! That's right, your furry friend's name will be printed on the mug, making it a truly unique and special gift that your dog mum will cherish forever.
So go ahead, surprise your dog mum with this amazing mug and watch her face light up with joy every time she takes a sip of her favourite drink. Trust us, this gift will make her tail wag with happiness!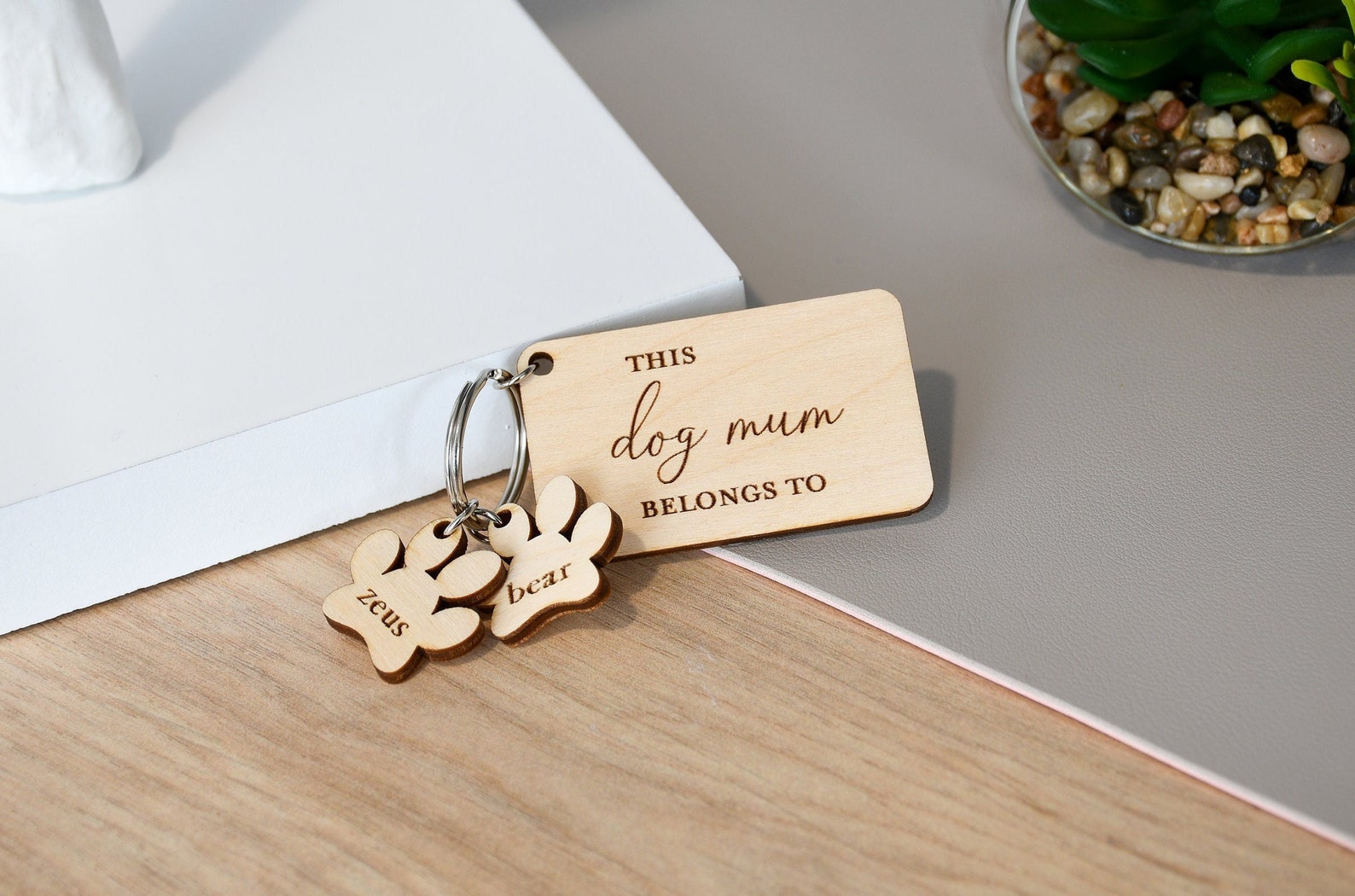 These personalised keyrings from Fox and Home are not only practical but also seriously adorable.
Imagine, instead of frantically searching for your keys, you can now proudly display your beloved fur baby's name and cute little paw prints on your keyring. Not only will it make finding your keys a breeze, but it will also be a constant reminder of your furry friend's love and loyalty.
And let's be real, who doesn't love a personalised gift? It shows that someone took the time to really think about what you would like and appreciate. Plus, with up to six paw prints, you can include all of your furry family members and show them off to the world!
Fox and Home personalised keyring is the pawfect gift for any dog mum. It's fun, friendly, and cute – just like our furry friends!
And let's face it, sometimes our dogs are more expressive than our human friends! They communicate with their wagging tails, adorable head tilts, and even sneaky glances. But decoding their messages can be a challenge. That's where the Doggie Language book by Lili Chin comes in.
This book is like a Rosetta Stone for dog communication. It provides a comprehensive guide to understanding your dog's body language, facial expressions, and vocalizations. From the wag of their tail to the twitch of their ears, you'll learn to decipher what your dog is trying to tell you.
And let's not forget about the hilarious anecdotes and witty commentary throughout the book. Lili Chin has a knack for making learning fun, and this book is no exception. You'll be chuckling along as you discover the subtle nuances of your dog's communication.
The Doggie Language book is the perfect gift for any dog mum. It's cute, informative, and just plain fun. Who knows, maybe your dog will even wag their tail in approval!
Let's face it, being a dog mum is a full-time job! You spend countless hours playing fetch, giving belly rubs, and making sure your furry friend has everything they need. And why do you do it? So your dog can have nice things, of course!
That's why the "Working Hard So My Dog Can Have Nice Things" coaster by StudioYelle is the perfect gift for dog mums. It's a cute and quirky way to show off your dedication to your furry companion while also keeping your furniture safe from pesky water rings.
Imagine sitting down with a hot cup of coffee, admiring your beautifully designed coaster, and feeling proud of all the hard work you do for your beloved dog. It's a great conversation starter too! Your friends will see the coaster and ask, "Why are you working so hard?" And you can proudly reply, "For my furry best friend, of course!"
Introducing the personalized sherpa blanket, the ultimate gift for dog mums! Not only is this blanket soft and snuggly, but it also features a custom illustration of you and your furry friend, making it totally unique and one of a kind. And the best part? You can add up to four pets to the illustration! That's right, whether you're a proud dog mum, cat mum, hamster mum, or even a rabbit mum, this blanket has got you covered (literally!).
But wait, there's more! You can even choose the background colour of the blanket, so it will match your decor perfectly. And if you want to add more pets, just purchase an additional pet illustration for a small extra fee. It's the ultimate way to show off your fur family in style.
Perfect way to snuggle up with your furry friends, without sacrificing style or comfort. Plus, it makes for an amazing gift for any fellow dog mum in your life!
Imagine snuggling up with your furry friend on a chilly evening, both wearing matching jumpers with their adorable face printed on them. It's like wearing your heart on your sleeve, or rather, your dog's face on your chest.
Not only are these jumpers soft and comfortable, but they're also eco-friendly, printed with water-based inks for a superior retail quality finish. And the best part? You get to choose your dog's breed and name to be printed on the jumper, making it truly personalised.
But wait, there's more! Tme Printing cares about the environment too, using 100% biodegradable or recyclable packaging. So you can feel good about your purchase and reduce your carbon pawprint at the same time.
Looking for a gift for a dog mum who loves her caffeine fix almost as much as her furry friend? Look no further than the Dogs & Coffee Pin Badge by Death by Tea!
This adorable pin is the perfect way for dog moms to show off their love for both their pups and their daily dose of caffeine. With its fun and friendly design, this pin will add a touch of whimsy to any outfit. Plus, it's a conversation starter for all the dog mum out there who love nothing more than chatting about their beloved furry friends.
The Dogs & Coffee Pin Badge by Death by Tea features the cheeky phrase "I just want to drink coffee and pet my dog." It's the perfect sentiment for anyone who knows that a cup of joe and a snuggle session with their pup is the ultimate way to start their day.
If your dog mum loves their dog as much as they love a good belly rub, then you need to get your paws on this Wish Bracelet by Handmade by Swans!
Picture this, they're having a ruff day and need a little pick-me-up. They glance down at their wrist and see the delicate silver paw print on this thin cord bracelet, and suddenly reminded of their furry best friend waiting for them at home.
But wait, there's more! This bracelet comes with a special wish. Yes, you heard it right, a wish! Just make a wish when you tie it on your wrist, and when the bracelet snaps, your wish will come true! Who knows, maybe they'll wish for more doggy kisses, and suddenly, their pooch is giving you a slobbery smooch fest!
Handmade by Swans have truly outdone themselves with this thoughtful and adorable gift.
We all love to capture those special moments on camera with our dogs. (We probably have more photos of our dogs in our camera roll than anything else, who else is with us?!) Print and frame your favourite memories!
Gifts for Fun Studio have this lovely polaroid style frame for displaying up to three images. Photos are printed on high quality Kodak paper and the message can be completely personalised.
We love the little pegs holding them in place which gives this frame a nostalgic feel. It'll be hard to choose just three photos, but we just know that every time mum looks at this, she'll get a warm fuzzy feeling in her tummy!
---
What Do You Love The Most About Dog Mums?
We really hope that this guide has helped you to find something suitable, or provided you with inspiration for the dog mama in your life. What do you love the most about dog mums? What's the best 'dog mum' gift you've received?