Dog Furiendly is supported by our tail-wagging readers. When you buy through affiliate links we may earn an affiliate commission. Click here to find out more.
Every mother deserves to be appreciated, and dog mamas are no different! From cleaning up their fur babies' poop, to bathing them, playing with them, walking them, loving and adoring them… dog mums truly are one in a million.
Looking for a way to show appreciation to the dog mum in your life? Look no further. We've pulled together a collection of some of the best dog mum gifts on Etsy and Amazon.
The Bespoke Foil Co is owned by Ashley who sells her handmade prints from Wigan. We think that this is a gift that will always bring a smile to mum's face when she sees it!
With a foil love heart to represent each human in the family and a paw print for your fluffy friend, this framed photo will be a beautiful keepsake for years to come. Available in four different colours and three different sizes, our favourite is the shimmery rose gold foil for bringing a touch of sparkle!
What better way to remind your mum that you love her than with a message on her cuppa!
This cute script font mug by Blue Acorn Prints will make her smile every time she has her morning tea or coffee. "World's Best Dog Mum" is printed on both sides and it's dishwasher and microwave safe. Such a simple gift, but guaranteed to be a hit with mum!
This caricature will take any dog mum by surprise! Get their pooch turned into a Disney cartoon character with these clever line drawings. You can personalise different elements of the art, including background colours, print size and personalised name. Click here for more Etsy dog portrait artists to surprise the dog mum in your life.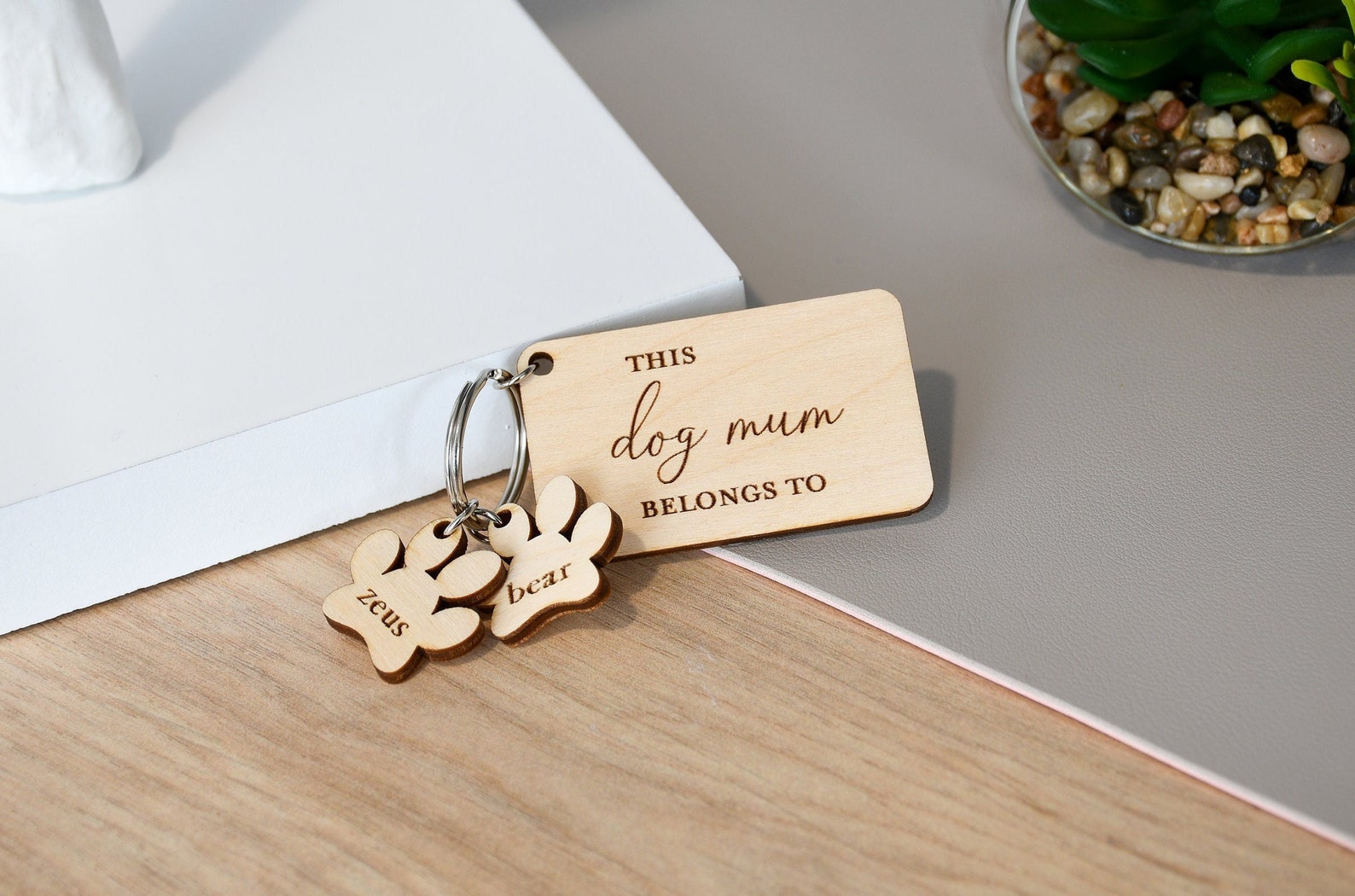 We are just obsessed with how CUTE this set is! We're always fumbling for our keys before heading out on a dog walk, but picking up a set with this will make all the stress disappear. This adorable personalised gift can include up to six paw prints with your furry friends name.
One gift that every dog mum wants… being able to understand their furry friend. This small but mighty book does just that. Every page has beautiful illustrations, helping dog owners to see and understand visual cues and behaviours. The more we notice and listen to what our dogs are trying to tell us, the closer it brings us to our besties!
Dog mums spend their money on pampering their pooch, giving them the best furry life possible! Brighten the coffee table or office with this pretty coaster. This way, everyone can know the reason why dog mums work so hard!
We've all been there, enjoying a cosy evening with our dogs when suddenly, a silent but deadly fart rolls in!
Let the world know that four legged furry creatures occupy your heart with this cute sweatshirt.
Dog Mums love to share their parenting role with the world. Whether that's with countless dog pics, cute stories of how they chased their tail, or a sweatshirt that makes an obvious statement! We love this 'dog mama' sweatshirt and it comes in grey or black. Perfect for those nippy dog walks!
The perfect accessory for dog mums. Coffee and puppacchinno addicted dog mums out there will love this pin!
Handmade by Swans have such a gorgeous selection of gifts, and we adore this sweet little wish bracelet! A silver paw print adorns this thin cord bracelet, a lovely reminder for mum that she is loved by her pup. Mum needs to make a wish when she ties this bracelet on her wrist and when it snaps, her wish will come true. We can already feel the 'awwww' moment when mama sets her eyes on this thoughtful gift!
We all love to capture those special moments on camera with our dogs. (We probably have more photos of our dogs in our camera roll than anything else, who else is with us?!) Print and frame your favourite memories!
Gifts for Fun Studio have this lovely polaroid style frame for displaying up to three images. Photos are printed on high quality Kodak paper and the message can be completely personalised.
We love the little pegs holding them in place which gives this frame a nostalgic feel. It'll be hard to choose just three photos, but we just know that every time mum looks at this, she'll get a warm fuzzy feeling in her tummy!
---
What Do You Love The Most About Dog Mums?
We really hope that this guide has helped you to find something suitable, or provided you with inspiration for the dog mama in your life. What do you love the most about dog mums? What's the best 'dog mum' gift you've received?