No effort is too small when it comes to helping out the community. This ideology is one we have always stood by, and one that is important now more than ever.
Over the last few months, small businesses have been hit the hardest. They're not out of the woods yet, and the road ahead set to be challenging. So this Christmas we're suppawting our small, independent businesses.
We've been working closely with dog owners to pull together a few of the items at the top of our own wish list. They are sure to bring a great big woofing smile at Christmas.
Many of us have some extra time on our hands at the moment and what a fantastic time to learn a new skill. Hoobynoo has the right idea with their fun cross stitch kit. This set is great for all levels and comes complete with everything you need. Once you complete the kit it can be hung on the tree and admired for years to come.
We adore these illustrated cartoons from Lauren Moore Bird. Every illustration is completely personalised. Whether you want the illustrated dog going on a wacky adventure, or living their best life amongst their favourite toys. Lauren will draw it!
Perfect gift for any dog lover and you can guarantee they won't have anything else like it. Lauren also has some charity Christmas cards available, all profits raised go towards AADI who train service dogs for people with Autism.
ALL dog lovers will be able to relate to this quirky coaster from Kay Townsend Design! Have more than one dog to account for? No problem customise 'dog' to 'dogs' in your basket.
This makes a great stocking filler or Secret Santa gift! Perfect for keeping at home, or in the office to accompany all those cups of coffees to fuel all the hard work.
All dog lovers know that a house isn't a home without our furry companions. So why not let their presence be known to guests the moment they step through the door.
Peacock Butterfly LOVE to personalise things with your pooch, including doormats. They make the perfect gift for any dog lover. You can either choose your own wording, OR they can suggest rhymes or ideas for your breed!
Patch Pops Boutique is a business based in Edinburgh and run by Kaylee. They make beautiful bows, bandanas, snoods, snuffle mats, Christmas stockings, treat bags and poop bag holders for dogs and have a range of items for dog parents like hats, jumpers, hoodies, headbands, scrunchies and the item of 2020, the face-mask!
We love this beanie, perfect for those chilly dog walks. You can customise the beanie and text colour. Fancy something else written on the front? Kaylee's got you covered.
We adore these beautiful hand-painted pet baubles. Each ceramic bauble is hand-painted with your dog's name painted in silver or gold.
Click here for more personalised doggy decorations.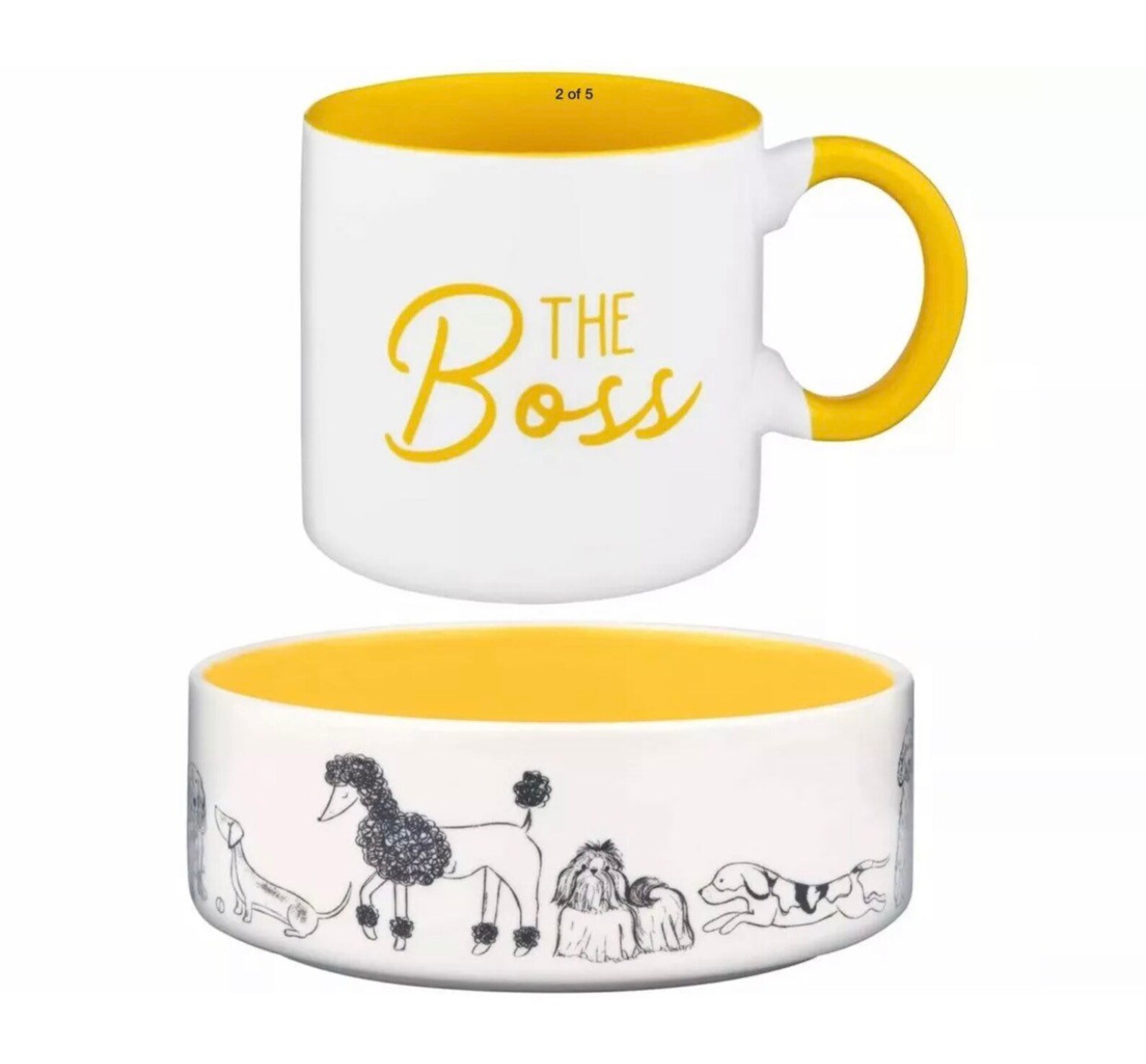 We're a little bit obsessed with this matching set. How cute to have a matching breakfast moment with your dog? This gift boxed Mug and dog Bowl Set is the perfect gift for that inseparable human and dog duo. The mug saying 'The Boss' and the bowl saying 'The Real Boss'. We all know that's true.
The seasonal period is a great time to sit down to a game of cards. If it's got your dog's face on it, then there's no better deck to play with! We love a cosy game of cards and would be delighted with some of these!
We love a hand-stamped dog tag, especially when they can sprinkle a sense of our dog's personality. These ones from Waggy Pooch are adorable. They create dog and cat tags, handmade dog collars and leashes with the active dog in mind. All products are even tried and tested by their own 4 dogs and cats. Made by dog-lovers for dog-lovers!
Got a loved one who just can't stop talking about their beloved pooch? We have the ideal gift for them! The 'Ask Me About My Dog' T shirt is made from the softest organic cotton and hand embroidered in uplifting rainbow colours. Each one is carefully created in the Cardiff home studio of Delicious Monster Tea.
If there's one thing a dog lover needs in their life, it's a handy "Adventure bag". Be it dog friendly adventures, or big ole dog walks. There are so many things to take with you while exploring with your pup.
Each bag from Bow Dickie Design has cute touches like the paper-leather zip tab and the extra easy-access pocket. Each one features a quick-release clasp and adjustable belt and can be worn around the hip or across the body. They also have other human and dog-related accessories. The business is eco friendly and promotes an Earth-friendly lifestyle.
Twinning is winning right? We adore these matching 'trouble' outfits from Minnie's Closet. Emma always wanted to "twin" with her little pooch Minnie, so created a unique range of outfits – perfect for all those doggy social events. Emma also takes on completely custom requests. Great gift for anyone who's as barking mad as we are.
We absolutely love the handmade wire dog figures from Wood Wired Designs. Wood Wired Design is a small company based by the seaside in Dorset.
These include the wire outline of your furry friend sitting atop a driftwood base. They are made to order and totally customisable.
By Alice and Hector make a gorgeous range of tags in lots of different designs, with different charms. We especially love these heart-shaped personalised keyrings.
Pop the location your keys belong, or just let the world know which dog you belong to. Perfect little stocking filler.
What do you get the dog owner who has everything? This box! We all love to spoil the dogs, but humans should be given a big treat during the Christmas celebrations too. The Dog Walkers box from Bella's Box is a wonderful gift filled with plenty of goodies to make the tail wag.
The box includes a Ruff and Tumble Clip Lead, Ruff and Tumble Dog Drying Mitts, Sweet William Dog Walkers Revival Hand Cream, Rex London Insulated Bottle, Smug Mutts Knot Put Toy, Sweet William "No More Wet Dog" Organic Candle and Sweet William Dog Walkers Revival Hand Made Soap. Talk about a box of dreams!
Lovely designed print, perfect for any dog loving home. This print comes from violet and alfie. Printed on thick paper and with high-quality print. It's unframed, but that just means you can find the perfect frame to match your interior right? (Preferably somewhere where you're not tripping over the dog).
A gorgeous stocking stuffer or gift for the dog lover in your life from Death by Tea! Not only is it super cute pin badge that looks great displayed on the lapel of your jacket or pinned to your rucksack, but it actually does good too!
For each pin sold, £2 goes directly to the charity Wild at Heart Foundation, who work to compassionately reduce the world's stray dog population.
Now this is a unique gift from Knightingale Crafts which will wag the tails of your dog-loving friend. Twelve tiny wooden dogs – different breeds, different poses, waiting to be stacked as high or creatively as possible.
You can stack them, display them, play with them even personalise them. They come in a drawstring Cotton Bag with an explanation card. Whether they're being used as an ornamental display, office toy, educational aid or to play with – they being plenty of fun!
Dog lover who's mutts about stationary (raises hand). These beautiful notebooks make a perfect treat. A set of 3 notebooks with a stylishly illustrated "Dogs in Jumpers" design. Each notebook has a different use, with its own unique cover.
Bring the spark to any Christmas gift with this personalised LED light for dog lovers. Light is created using your chosen photograph and custom text on the wooden base.
More Doggy Gift Guides
We're all about suppawting dog-related businesses this year. So we've pulled together a whole range of gift guides. You'll find something for everyone, from Smitten Spaniel lovers to Crazy Sausage Dog Ladies.
Thank you to our Explorers ike_the_snifferdog, rosie_and_bear_by_the_sea, cheekey_korey, minibull.margo and minniemousethedoggo for all your recommendations.